General Motors TBM-3E Avenger
Pima Air and Space Museum Aircraft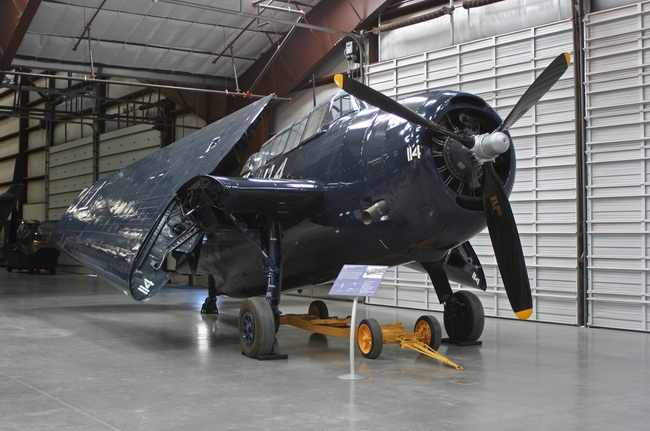 General Motors TBM-3E Avenger
The Avenger was designed and built initially by the Grumman company and designated TBF. However, since Grumman's facilities were straining to produce enough of their fighters for the Navy it was decided to ask General Motors to open another production line for the design. The General Motors version was designated the TBM, but was otherwise identical. The Avenger first entered combat during the Battle of Midway, and despite a poor performance in that engagement went on to be the primary torpedo bomber of the war. Later versions of the aircraft designated TBM-3 had a more powerful engine and the "E" variant was equipped with a special anti-submarine radar. Avengers continued to serve in the U.S. Navy well into the 1950s.
---
General Motors FM-2 Wildcat
Pima Air and Space Museum Aircraft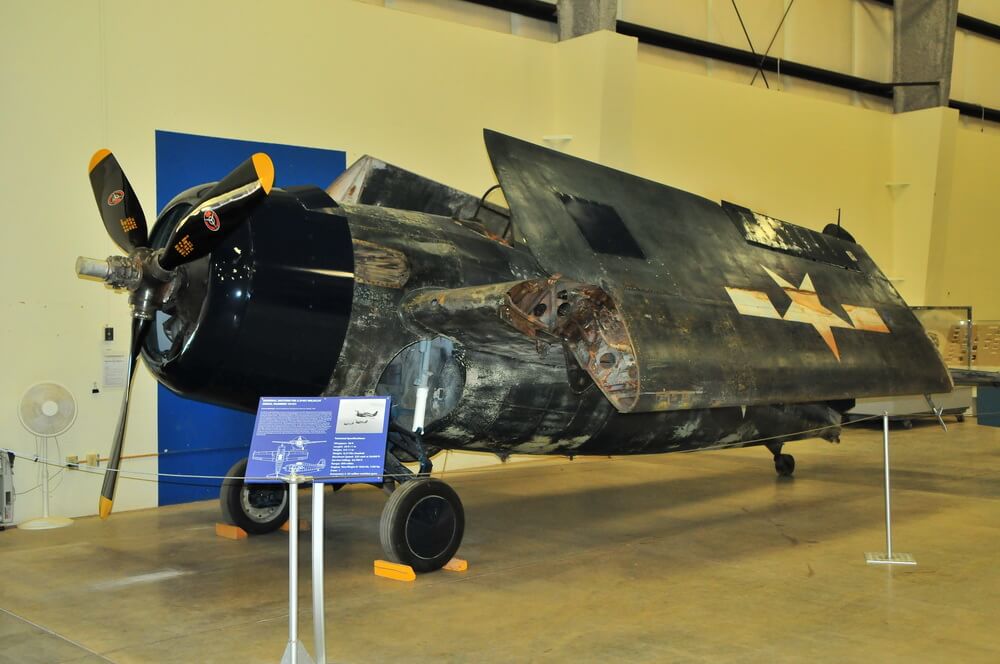 General Motors FM-2 Wildcat
The FM-2 is a late World War II variant of the famous Grumman F4F Wildcat built by General Motors' Eastern Aircraft Division. General Motors began building Wildcats when Grumman's factories were dedicated to the production of F6F Hellcats. The Wildcat first flew in 1937 and entered Navy service with VF-41 in 1940. F4Fs were the primary carrier and land based fighter for the Navy and Marines for the first two years of the war. It was also supplied in large numbers to the British Royal Navy, which called it the Martlet. In 1943, the greatly improved F6F Hellcat began to replace the Wildcat on the Navy's large carriers, while the Vought F4U Corsair replaced it in land-based Marine squadrons. The smaller Wildcat remained the primary fighter for the American and British escort carriers. Many Wildcats also served as trainers throughout the war. One of the Navy's largest training centers was located near Chicago. Two Great Lakes paddlewheel steamers were converted into aircraft carriers. The USS Wolverine and USS Sable sailed from Chicago's Navy Pier each day to let new aviators practice landing and taking off from ships. The combination of new pilots and the inherently dangerous activity of landing on a moving ship resulted in many aircraft littered across the bottom of southern Lake Michigan. Fortunately for future historians Lake Michigan has just the right combination of depth, cold and fresh water to preserve these aircraft.