Hughes TH-55A Osage
Pima Air and Space Museum Aircraft

Hughes TH-55A Osage
The Osage was first flown as the civilian Model 269 in October 1956. It proved quite popular for training and with police and corporate owners. In 1964, it was selected by the U.S. Army as its primary helicopter trainer and was given the designation TH-55A and the name Osage. TH-55's served until 1988, but they saw the most use during the Vietnam War when the Army's need for helicopter pilots was virtually insatiable. Nearly 800 Osages were built for the Army and many of them found their way onto the civil market after they were retired where they remain a popular light helicopter.
---
Hughes OH-6A Cayuse
Pima Air and Space Museum Aircraft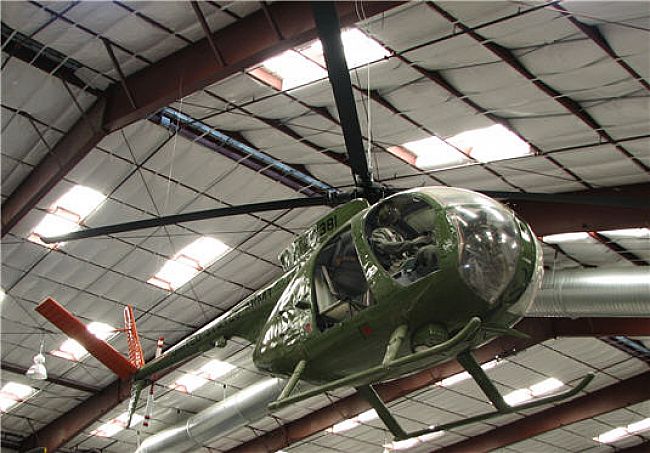 Hughes OH-6A Cayuse
Hughes designed the OH-6 in response to a 1963 U.S. Army request for a Light Observation Helicopter (LOH). This acronym eventually resulted in the OH-6's popular nickname "Loach." Over a dozen designs were submitted to the Army and the three finalists from Bell, Fairchild, and Hughes competed head-to-head for the contract. The Hughes design was selected in 1965 and was given a contract for over 1300 helicopters. The OH-6 proved to be a very effective scout and light attack helicopter in Vietnam although the fact that they flew at low altitudes and relatively slowly resulted in high losses and heavy casualties. Upgraded versions of the OH-6 continue to serve with the U.S. Army's Special Forces. The civilian version of the Cayuse, the MD-500, and retired military helicopters are very popular with civilian pilots and law enforcement with large numbers of them continuing in production and flying.