Rutan Quickie
Pima Air and Space Museum Aircraft

Rutan Quickie
The Quickie was designed in 1974 by a team made up of Burt Rutan, Tom Jewett, and Gene Sheehan. The goal was to create an easy to build and fly aircraft that would not tax the skills of the average homebuilder. The oddly shaped design was introduced to the public in 1978 and Jewett and Sheehan formed the Quickie Aircraft Corporation to sell kits and plans. The aircraft is technically a canard design, however the nearly equal size of each wing makes it appear to be a biplane. By 1980 over 300 kits had been sold, however how many of these resulted in aircraft is not clear.
---
Rutan Long EZ
Pima Air and Space Museum Aircraft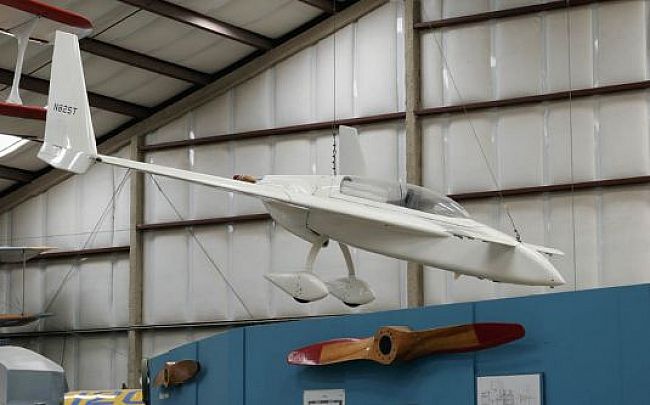 Rutan Long EZ
Designer Burt Rutan has become world famous for his unique advanced aircraft designs. In the late 1970s his company, Rutan Aircraft Factory, produced plans for several different types of homebuilt aircraft. One of the most popular is the high performance Long-EZ introduced in 1979. The aircraft's fiberglass construction allows good performance and speed while using a small, economical engine. The forward canard gives the Long-EZ improved safety characteristics by preventing the aircraft from stalling when flown a low speeds.