Harold L. Abrams
Arizona Aviation Hall of Fame
Enshrined 2006

Harold "Bud" Abrams enlisted in the United States Army Air Corps in 1942. He became a glider pilot, and then transferred to Cadet School flying the Stearman, B-25, and C-47. He flew the C-46 in the Pacific Theater during WWII, leaving the service with the rank of Captain. Bud continued private flying, aircraft repair, and parts kit designs for general aviation through his entire career. In 1965 he founded Abrams Airborne Mfg. He designed and manufactured parts for the Apollo missions, space shuttles, space station Alpha, Mars Rover, and medical and commercial products. He founded Pima Aviation, an airport development company, and Tucson Aeroservice Center, an airport FBO.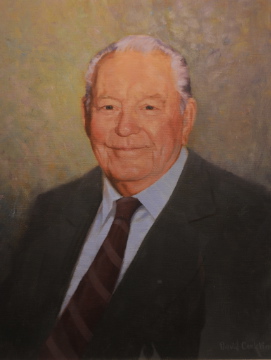 Bud was a founding member of the Pima Air & Space Museum, and served on the Board of Directors for nine years, including three years as President. He was the primary advisor to the museum on the acquisition of the SR-71 Blackbird. Bud designed the cabinets for the Arizona Aviation Hall of Fame, where he served as a Trustee. He continued to fly for his entire life.
---
David L. Althoff
Arizona Aviation Hall of Fame
Enshrined 2000

"For the man Dave Althoff, I'll go anywhere anytime . . . without his quick landing and extraction, I would have my name on panel E-35 on the Wall." Former Marine Lance Corporal James M. Barnerd.
The above quote describes the feelings of many Marines who were rescued by, or who served with, Lt. Col. David L. Althoff during his tour in Vietnam from May of 1967 to June of 1968. The exploits of LTC David Althoff and his CH-46 crew during the siege of Khe San, Vietnam have become part of the living legend of the United States Marine Corps.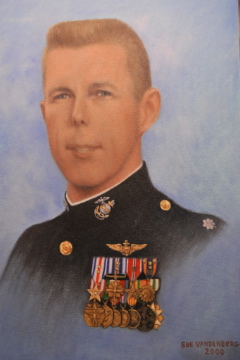 LTC David L. Althoff and his crew in the period 1967 through June 1968 flew more than 1000 combat missions in Vietnam. During that year in combat, their CH-46 was shot out of the sky four times. Althoff and his crew, in order to resupply forward area troops with ammunition, food and water and rescue wounded troops, placed themselves in harm's way many times.
Althoff is credited with saving hundreds of Marines who were critically wounded in battle, surrounded by the enemy and in need of immediate evacuation from the battlefield. Althoff developed airmanship/helicopter combat flying tactics and techniques used throughout the USMC. In 1968, Althoff was selected by the USMC as the Marine Corps Aviator of the Year and awarded the Alfred A. Cunningham Trophy. He is the recipient of 3 Silver Stars, 3 Distinguished Flying Crosses, 1 Bronze Star, 1 Meritorious Service Medal and 55 Air Medals. Althoff has been an Arizona resident since 1948.