Barbara McConnell Barrett
Arizona Aviation Hall of Fame
Enshrined 2014


Barbara Barrett was born in Indiana County, Pennsylvania. In 1968 she moved to Arizona to attend college. She received her Bachelor's, Master's, and Juris Doctorate from Arizona State University. She holds ratings as a private and instrument rated pilot. In 1982 she was appointed by President Reagan as the Vice Chairman of the Civil Aeronautics Board. Beginning in 1989 she served for one year as the Deputy Administrator of the Federal Aviation Administration, the first woman to hold that position. During this time she was greatly involved in rebuilding the air traffic control system after the air traffic controller's strike. As a member of the Defense Advisory Committee on Women in the Services she has worked with Congress, the Secretary of Defense and the Department of Defense to advance the position of women in the military that in 1993 culminated in allowing women to fly combat aircraft.
She has been a member of both non-profit and corporate boards including; The National Air & Space Museum, the Arizona Governor's Advisory Council on Aviation, Embry-Riddle aeronautical University, Mountain Air Express, Piper Aircraft, Raytheon Corporation, and Hershey. She introduced the Sally Ride Science Festival to Arizona. In 2008, Barrett was selected by President Bush to serve as the United States Ambassador to Finland. She held this post until 2009. That year she trained at the Gagarin Cosmonaut Training Center in Star City, Russia and at the Baikonur Cosmodrome in Kazakhstan and was certified to fly in space.
Barrett has received numerous recognitions for her contributions including honorary doctorates from Arizona State University, Embry-Riddle Aeronautical University, Thunderbird School of Management, the University of South Carolina, Pepperdine University and Finlandia University. In addition, she has been recognized with the Woodrow Wilson Award for Corporate Citizenship and the FAA's Administrator's Award for Distinguished Service.
---
Edward Raymond Beauvais
Arizona Aviation Hall of Fame
Enshrined 2014


Edward Beauvais was born November 13, 1936 in Pueblo, Colorado and grew up there. He attended Regis College in Denver where he received a degree in accounting. His career in aviation began in 1960 when he went to work for Frontier Airlines as an accountant. In 1963 he was hired by Bonanza Airlines as Manager of Budgets and Cost Control. Ed and his family first came to Arizona in 1966 when Bonanza moved its headquarters to Phoenix from Las Vegas. Two years later he moved along with the airline to California when it merged with Pacific Airlines and West Coast Airlines to form Air West.
In 1979, Edward formed his own aviation consulting business called Beauvais, Robert, and Kurth. Headquartered in Burlingame, California the company provided economic, route system, and marketing support to numerous airlines and cities throughout the country. Eventually the company would open offices in both Washington DC and Phoenix. Edward led the company until 1981 when he developed a business plan for a new low cost airline, America West to be headquartered in Phoenix. Over the next two years he worked to secure financing and lease aircraft for the fledgling airline. America West began service on August 1, 1983 with flights from Phoenix to Kansas City, Wichita, Colorado Springs and Los Angeles. Over the next ten years Beauvais built America West into one of the most successful of the 1980s post-deregulation airlines. He left America West as Chairman and CEO in 1992 and returned to his native Colorado. Two years later he founded Western Pacific Airlines and a year after that began Mountain Air Express. Mountain Air was sold in 1998 and that same year he retired from Western Pacific. In nearly forty years in the airline industry Beauvais founded three successful airlines, one of which, America West, has grown through mergers to become one of the largest airlines in the United States and has adopted the name of its latest acquisition, American Airlines.
Beauvais has received numerous awards and recognitions over the years including: an honorary Doctorate of Aviation Management from Embry Riddle University, Entrepreneur of the Year from Arizona State University College of Business for 1988, the Key to the City of Tempe, Honorary Doctorate of Management from Colorado Technical University, and the Laurels Award for Outstanding Achievement in Commercial Transport from Aviation Week & Space Technology.
---
Lt. Col. Mark Berent, USAF (Ret.)
Arizona Aviation Hall of Fame
Enshrined 2012

Lt. Col. Mark Berent, USAF (Ret.) was born in Minneapolis, Minnesota on October 24, 1931. He is a 1965 Arizona State University graduate with a BS in Mechanical Engineering. He lived in Phoenix in the early '60's while attending Arizona State University and has been a permanent Arizona resident since 1996. As an Air Force fighter pilot, he served three combat tours in Vietnam, flying the F-100 Super Sabre and the F-4 Phantom from Air Force bases in Vietnam and Thailand, and the C-47 and the U-10 as the Air Attaché in Cambodia.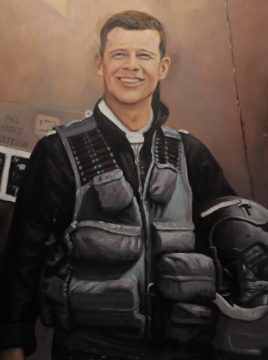 More than 1,000 of this 4,300 flying hours were in combat, where he earned the Silver Star, two Distinguished Flying Crosses, the Bronze Star, over two dozen Air Medals, the Legion of Merit, the Vietnamese Cross of Gallantry, and the Cambodian Divisional Medal. He also jumped with the Cambodian army and was awarded their paratrooper wings.
Lt. Col. Berent is well known as the author of the ROLLING THUNDER five-book Vietnam air war series which made the war and those who fought it understandable to the American public. Note that his main character attended Arizona State University.
Lt. Col. Berent is committed to both military and Arizona aviation – to its history, its conduct and image, its safety and success, and to the people, young and old, within. Flying his T-6, Rolling Thunder, he performed in many Copper State air shows and gave motivational rides to many Arizona USAF Junior ROTC high school students. Few have done as much to promote aviation in Arizona.
---
Frank Borman
Arizona Aviation Hall of Fame
Enshrined 1990

Col. Frank Borman was born in Gary, Indiana and grew up in Tucson, AZ. He graduated from West Point in 1950.After serving as a fighter pilot in the Philippines and the U.S., he was an assistant professor at West Point and an experimental test pilot at Edwards A.F.B., CA.
Joining NASA's space program in 1962, he commanded the Gemini 7 mission and in 1968 he won international fame as Commander of the Apollo 8 space flight, the manned lunar orbital mission. He retired from Air Force in 1970 and joined Eastern Airlines as president.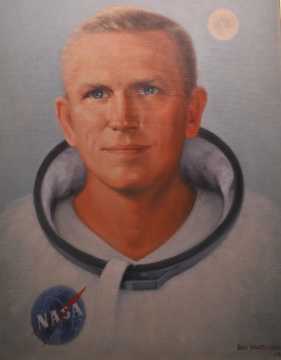 In addition to his many honors he was awarded the Harmon International Aviation Trophy and the Congressional Space Medal of Honor.
NOTE:
Frank was awarded the Congressional Space Medal of Honor for being the Commander on Apollo 8, which was the first mission that went to the Moon.
He was also instrumental in getting our Moon Rock.
---
Janet Harmon Bragg
Arizona Aviation Hall of Fame
Enshrined 2000

Janet Harmon Bragg was born in Griffin, Georgia and grew up in Chicago, Illinois. She became a Registered Nurse in the early 1930s. In 1933, at the age of 21, Janet Harmon Bragg started flying lessons and soon earned a Private Pilot License.
She then persuaded the Village of Robins, Illinois to provide land for an airport and helped to found the Challenger Flying Club based at Robins Airport.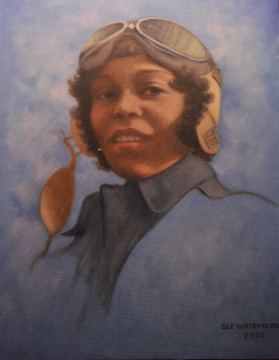 Bragg encouraged other women to also take flying lessons. The Challenger Flying Club grew. When not working or flying, Janet Harmon Bragg was active in politics. When our nation began to prepare for WWII, Janet was very actively promoting both black men and women for active roles in military aviation. Janet Bragg was instrumental in the U.S. Army Air Corps' opening flight training for black pilots at five locations, including Tuskegee Institute.
Janet Harmon Bragg spent the major part of her life encouraging blacks to become active in aviation. She was an active pilot for over 35 years, earned a Commercial Pilot License and logged over 2,000 flying hours. In 1984, Bragg was honored by the University of Arizona Black Alumni Association as the first black woman to receive a commercial pilot's license in the USA. She also was presented the Certificate of Appreciation by the FAA and was awarded the Bishop Wright Air Industry Award for her contributions to aviation by the U.S. Department of Transportation.
---
Gerald Brown
Arizona Aviation Hall of Fame
Enshrined 1995

Gerald Brown was born in Globe, Arizona. A veteran of two wars, he received his U.S. Army Air Force commission in 1943 and went to England with the 55th Fighter Group. Flying P-38s, he became an ace by shooting down five enemy planes and damaging another. In 1944 he bailed out of a burning P-51, evaded German capture and was picked up by the World War II French Underground. Returning to the U.S., he held several key stateside posts before entering combat in Korea.
In November 1950 he was shot down by ground fire and held prisoner until September 1953. Later he served in France with a reconnaissance wing as operations director. Then he was sent to Washington, D.C., for a three-year tour with the Federal Aviation Administration. At the time of his retirement in 1967 he was wing commander at Luke Air Force Base, Arizona. During a distinguished Air Force career, Colonel Brown earned numerous decorations for valor, including the Distinguished Flying Cross with four clusters, Bronze Star, Legion of Merit, French Croix de Guerre and others. A former president of American Fighter Aces, he now chairs its museum foundation.