Janet Harmon Bragg
Arizona Aviation Hall of Fame
Enshrined 2000

Janet Harmon Bragg was born in Griffin, Georgia and grew up in Chicago, Illinois. She became a Registered Nurse in the early 1930s. In 1933, at the age of 21, Janet Harmon Bragg started flying lessons and soon earned a Private Pilot License.
She then persuaded the Village of Robins, Illinois to provide land for an airport and helped to found the Challenger Flying Club based at Robins Airport.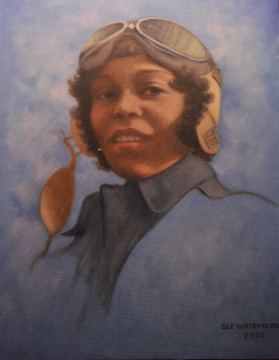 Bragg encouraged other women to also take flying lessons. The Challenger Flying Club grew. When not working or flying, Janet Harmon Bragg was active in politics. When our nation began to prepare for WWII, Janet was very actively promoting both black men and women for active roles in military aviation. Janet Bragg was instrumental in the U.S. Army Air Corps' opening flight training for black pilots at five locations, including Tuskegee Institute.
Janet Harmon Bragg spent the major part of her life encouraging blacks to become active in aviation. She was an active pilot for over 35 years, earned a Commercial Pilot License and logged over 2,000 flying hours. In 1984, Bragg was honored by the University of Arizona Black Alumni Association as the first black woman to receive a commercial pilot's license in the USA. She also was presented the Certificate of Appreciation by the FAA and was awarded the Bishop Wright Air Industry Award for her contributions to aviation by the U.S. Department of Transportation.