Lt. Col. Mark Berent, USAF (Ret.)
Arizona Aviation Hall of Fame
Enshrined 2012

Lt. Col. Mark Berent, USAF (Ret.) was born in Minneapolis, Minnesota on October 24, 1931. He is a 1965 Arizona State University graduate with a BS in Mechanical Engineering. He lived in Phoenix in the early '60's while attending Arizona State University and has been a permanent Arizona resident since 1996. As an Air Force fighter pilot, he served three combat tours in Vietnam, flying the F-100 Super Sabre and the F-4 Phantom from Air Force bases in Vietnam and Thailand, and the C-47 and the U-10 as the Air Attaché in Cambodia.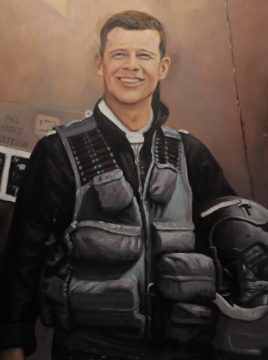 More than 1,000 of this 4,300 flying hours were in combat, where he earned the Silver Star, two Distinguished Flying Crosses, the Bronze Star, over two dozen Air Medals, the Legion of Merit, the Vietnamese Cross of Gallantry, and the Cambodian Divisional Medal. He also jumped with the Cambodian army and was awarded their paratrooper wings.
Lt. Col. Berent is well known as the author of the ROLLING THUNDER five-book Vietnam air war series which made the war and those who fought it understandable to the American public. Note that his main character attended Arizona State University.
Lt. Col. Berent is committed to both military and Arizona aviation – to its history, its conduct and image, its safety and success, and to the people, young and old, within. Flying his T-6, Rolling Thunder, he performed in many Copper State air shows and gave motivational rides to many Arizona USAF Junior ROTC high school students. Few have done as much to promote aviation in Arizona.