Harry B. Combs
Arizona Aviation Hall of Fame
Enshrined 1994

Harry Combs was born in Denver, Colorado. A pilot since 1928, he graduated from Yale, worked for Pan Am, and then in 1938 founded Combs Aircraft which became one of the most successful aircraft service centers in the country. During World War II he trained thousands of military pilots and flew C-54s for the USAAF Air Transport Command. In the 1960s he served as an advisor to the FAA and NASA. As president of Gates Learjet in the 1970s, he was instrumental in establishing the company's plant in Tucson. An avid historian, he is the author of "Kill Devil Hill," the prize‑ winning book on the birth of powered flight.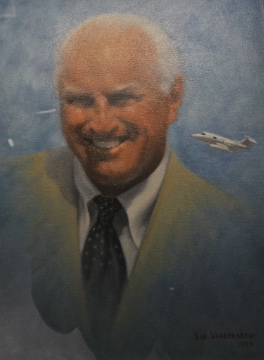 His awards include the coveted Wright Brothers Memorial Trophy which then Vice President George Bush presented him in 1985 for his many significant and enduring contributions to aerospace.
The small company he started in '38 is now AMR Combs, an FBO chain owned by the parent of American Airlines. One of the most prominent figures in the world of aviation, his name today is synonymous with excellence in aircraft service and operations.
---
Fred J. Cone
Arizona Aviation Hall of Fame
Enshrined 2007

Fred Cone was born on July 20, 1933 in St. Joseph, MO. He attended the University of New Mexico on a Naval ROTC scholarship where he received a degree in Civil Engineering. Fred earned his commission in the United States Marine Corps in 1956 and earned his Aviator's wings in June 1958. During his military career, Fred flew a total of 21 different types of aircraft and amassed over 8600 flight hours, including 1000 hours of combat flying. Fred was instrumental in introducing the A-6 Intruder and the OV-10 Bronco into Marine service.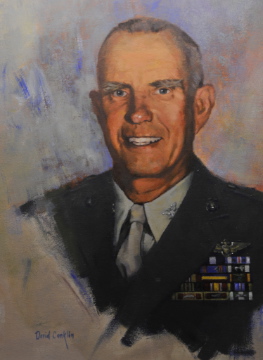 He commanded 7 different units during his career, and served as the Chief of Staff of the Second Marine Air Wing while reaching the rank of Colonel. In 1986 Fred was tasked with creating the Naval ROTC program at The University of Arizona. Over a 2-year period he built it from 1 to nearly 200 members. His military awards include; the Navy Cross, Legion of Merit, Distinguished Flying Cross, the Air Medal and the Navy Commendation Medal.
After his retirement from the military Fred added a Master's Degree in Civil Engineering from The University of Arizona to earlier degrees in Aeronautical Engineering and a MBA. He is employed as a professor in the Air Science Department at Embry-Riddle Aeronautical University in Prescott, Arizona. During this time he has worked as a coach of the school's Flight Team and led them to the National Championship of the National Intercollegiate Flying Association (FIFA) on 3 occasions.
---
John Connelly and Leland Hayward
Arizona Aviation Hall of Fame
Enshrined 2000

WWII and their mutual interest in aviation brought John "Jack" Connelly and Leland Hayward together. Jack Connolly was trained as a U.S. Army pilot during the closing days of WWI. At war's end, Connelly combined work in the financial world with an active life in aviation and motion pictures. His aviation activities involved work as a test pilot and a founder of Regional Airlines.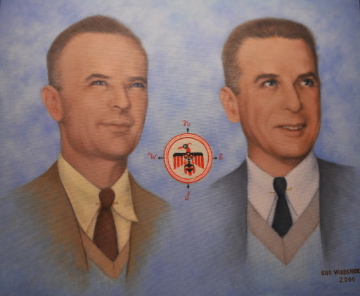 Leland Hayward was a "giant" in the American Theater and a friend and contemporary of other such giants in music and theater as Richard Rogers, Josh Logan and Oscar Hammerstein. He was also an accomplished pilot.
We honor Jack Connelly and Leland Hayward for their role in training more than 25,000 American and Allied pilots from more than 29 nations in WWII. Their company, Southwest Airways, built three Phoenix area airports and operated a fourth. Today, Scottsdale Airport (Thunderbird 2) and Falcon Field serve the needs of private and corporate aviation. Thunderbird 1 in Glendale, Arizona is now the site of the respected American Graduate School of International Management.
---
Roy M. Coulliette
Arizona Aviation Hall of Fame
Enshrined 2004

From novice aviator
to starting and operating
one of the top soaring schools
in the country
Roy M. Coulliette, a resident of Peoria, Arizona since 1954, was born in
Florida in 1941. His interest in aviation began early. He dreamed of being a pilot after he saw a glider club operating off a dirt highway.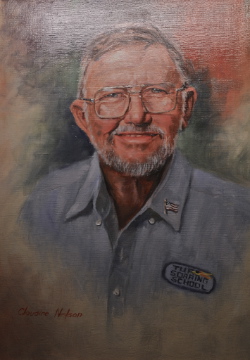 Roy Coulliette's rise from novice aviator to owning and operating one of the top soaring school in the country started when he bought his first airplane in 1967; a 150 HP Citabria. He hired on to tow gliders for a soaring school in Buckeye, AZ. The school moved to Chandler, Arizona where the owner chose to sell his interest in the school to Roy Coulliette and two partners. Roy and his partners moved the school to Turf Paradise Airport where the business grew substantially and the name was changed to Turf Soaring School. Later, Roy Coulliette became the sole owner and in 1976, he moved the school and began building the Pleasant Valley airport. By the year 2000, the school was recognized as one of the major soaring schools in the country with 11 gliders, 4 tow planes, and operated over 12,000 flights per year. Turf Soaring is also home to CAP Cadet Training Squadron Flight 400, the most active in the U.S.
There is no question that Turf Soaring would not be where it is today had not been for the perseverance, dedication and guiding hand of Roy Coulliette.
---
William P. Cutter
Arizona Aviation Hall of Fame
Enshrined 1995

No name in aviation is better known nor more respected in the American Southwest than Cutter. A pioneer barnstormer who gave the Navajo Indians their first taste of flight, the late William P. Cutter began a family tradition in aviation that has no equal. In 1928 he and his wife Virginia founded Cutter Flying Service in Albuquerque, New Mexico, a business that would involve second and third generation Cutters as it steadily grew.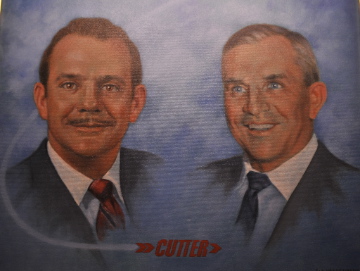 The firm trained U.S. naval aviators and military glider pilots in World War II and later became one of the country's top centers for Beechcraft sales and service. The company opened its Phoenix facility in 1958 and, under the leadership of son William R. (Bill) Cutter, it has become a major factor in the Arizona economy.
In recent years Cutter also expanded operations into Texas. Today Bill Cutter, himself a veteran fixed and rotary wing pilot and a champion balloonist, heads Cutter Aviation's tri-state network and plays a key role in the development of civil aviation in all three states. And it's likely the Cutter family tradition of providing professional aviation services of the highest quality will continue for many more years to come.