Harry B. Combs
Arizona Aviation Hall of Fame
Enshrined 1994

Harry Combs was born in Denver, Colorado. A pilot since 1928, he graduated from Yale, worked for Pan Am, and then in 1938 founded Combs Aircraft which became one of the most successful aircraft service centers in the country. During World War II he trained thousands of military pilots and flew C-54s for the USAAF Air Transport Command. In the 1960s he served as an advisor to the FAA and NASA. As president of Gates Learjet in the 1970s, he was instrumental in establishing the company's plant in Tucson. An avid historian, he is the author of "Kill Devil Hill," the prize‑ winning book on the birth of powered flight.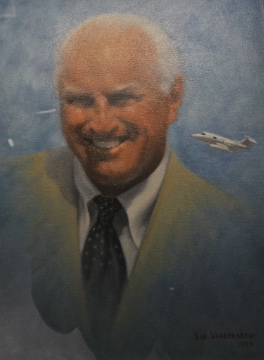 His awards include the coveted Wright Brothers Memorial Trophy which then Vice President George Bush presented him in 1985 for his many significant and enduring contributions to aerospace.
The small company he started in '38 is now AMR Combs, an FBO chain owned by the parent of American Airlines. One of the most prominent figures in the world of aviation, his name today is synonymous with excellence in aircraft service and operations.