John Connelly and Leland Hayward
Arizona Aviation Hall of Fame
Enshrined 2000

WWII and their mutual interest in aviation brought John "Jack" Connelly and Leland Hayward together. Jack Connolly was trained as a U.S. Army pilot during the closing days of WWI. At war's end, Connelly combined work in the financial world with an active life in aviation and motion pictures. His aviation activities involved work as a test pilot and a founder of Regional Airlines.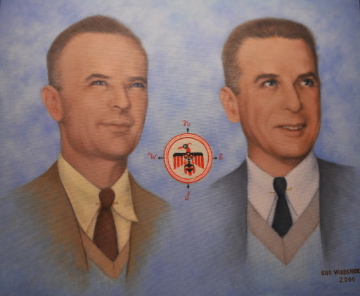 Leland Hayward was a "giant" in the American Theater and a friend and contemporary of other such giants in music and theater as Richard Rogers, Josh Logan and Oscar Hammerstein. He was also an accomplished pilot.
We honor Jack Connelly and Leland Hayward for their role in training more than 25,000 American and Allied pilots from more than 29 nations in WWII. Their company, Southwest Airways, built three Phoenix area airports and operated a fourth. Today, Scottsdale Airport (Thunderbird 2) and Falcon Field serve the needs of private and corporate aviation. Thunderbird 1 in Glendale, Arizona is now the site of the respected American Graduate School of International Management.