Kenneth H. Dahlberg
Arizona Aviation Hall of Fame
Enshrined 2009

Kenneth Dahlberg was born in St. Paul, Minnesota in 1917 and grew up in Wisconsin. He was drafted into the Army soon after high school and qualified for pilot training. Ken graduated from pilot training at Luke Army Air Field in Phoenix in 1942 and immediately moved to Yuma Army Air Field where he served as an instructor to pilots from the Chinese Air Force. He was later assigned to combat in the European Theater where he distinguished himself as a fighter pilot flying P-47s and P-51s. Ken was credited with 15 and a half kills while being shot down three times himself. The third time he was shot down, he was taken prisoner by the Germans and spent the remainder of the war as a Prisoner of War.
After the war, Ken founded Dahlberg Electronics, a company that would eventually become well known as the inventor of the Miracle Ear hearing aid. He has remained prominent in the business world and serves on the boards of several companies and foundations. His business skills also made him a prominent fundraiser for political campaigns including the presidential runs of Barry Goldwater and Richard Nixon.
Note:

He became a triple ace in WWII. After the war, founded Dahlberg Electronics and developed "Miracle Ear" hearing aid. One of the founders of the Heard Museum in Phoenix.
---
Roy S. Davis
Arizona Aviation Hall of Fame
Enshrined 1999

Roy Davis is our first Arizona Aviation Hall of Fame inductee from the ranks of those who spend their lives keeping aircraft airworthy. Roy spent over forty years in the world of military and major US Airline aircraft maintenance. In the beginning, Roy earned a private pilot's license and set out to get a pilot slot at Trans World Airlines (TWA). TWA was not interested in hiring Roy as a pilot but offered him a job as a mechanic Roy was hired on at TWA n 1942 and soon found himself involved with the US Army Air Corps, Air Transport Command. Roy ended up as a chief of Line Maintenance at four European ATC bases during WWII.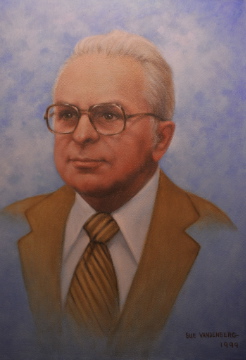 When the war ended, Roy was back at TWA, starting at Laguardia Field in New York. He later spent several years in Europe before again returning to Laguardia. Roy went on to serve as TWA Director of Maintenance at O'Hare International Airport in Chicago. Roy became a legend in the world of airline maintenance. He was the TWA guy who flew company aircraft out of mud bogs and snow banks. Roy served as the model for the character of Joe Patroni in Arthur Hailey's "Airport."
Roy received a special Federal Aviation Association Certificate of Recognition honoring him for the many things he did for commercial aviation while he was TWA Director of Maintenance at O'Hare. Roy is only one of four persons to be given Honorary Lifetime Membership in the Airline Pilots Association. (The others were Jimmy Doolittle, Charles Augustus Lindbergh and Eddie Rickenbacker.) Roy is the only non-active pilot ever so honored by ALPA.
---
Walter Douglas, Jr.
Arizona Aviation Hall of Fame
Enshrined 1990

Walter Douglas, Jr. was born in Santa Barbara, California and grew up in New York City. He learned to fly in 1930, soloing in a Fleet biplane that is now on display at Pima Air Museum. Walter moved to Tucson in 1934 and set up a flight school and fixed base operation at what is now Davis Monthan A.F.B. In 1938, he founded Grand Canyon Airlines to provide service between Boulder City, Pierce's Ferry and the Grand Canyon. In 1942, he developed Gilpin Airport in northwest Tucson, and during WWII he moved his operations to Gilpin and trained over 1,100 Naval Air Cadets, military and civilian personnel. Walter was well known for his contributions to community and educational issues. He continued flying until his death in 1987.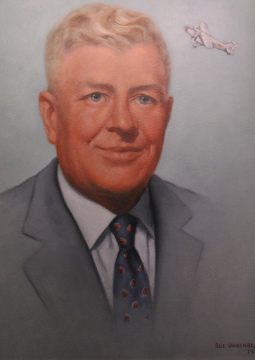 ---
Donald C. Downie
Arizona Aviation Hall of Fame
Enshrined 2006

A full-time writer and photographer in the aviation field since before WWII, Donald Downie was one of the most senior writers in the business. His first published photograph and caption was of a Fokker four-engine transport in 1934 in "Popular Aviation Magazine."
Downie made significant contributions in aviation writing and photography, with an emphasis on the Southwest. Downie received top honors in the first INDUSTRIAL PHOTOGRAPHY Magazine film competition (1962) for a documentary he produced entitled, "The Other Side of the Mountain."
Downie has been featured in numerous magazines, books and newspapers since 1938. Downie's latest book, "Flying the Hump," released by Motorbooks in 1995, is a WWII memorabilia book in coffee table format.