Graham "Lum" Edwards
Arizona Aviation Hall of Fame
Enshrined 2008

Graham "Lum" Edwards began his aviation career in 1942 when, at the age of 24, he received his Private Pilot, Commercial and Flight Instructor certificates. He immediately went to work teaching in the military's Primary Pilot training programs teaching both Army and Navy cadets the basics of flying. In 1944 he went into active military service with the Army Air Force and was assigned to the multi-engine aircraft school at Douglas, Arizona to learn to fly large aircraft. He was initially assigned to the Air Force Ferry Command and flew newly built aircraft around the United States. He later trained in the B-24 and was assigned to fly the C-109 on fuel transport missions from India over the infamous "Hump" of the Himalayan Mountains into China.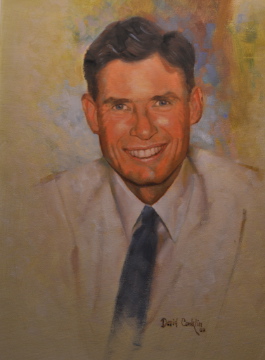 After the war he and his family moved to Tucson where he flew as a flight instructor and chief pilot for several local businesses. He also served as a FAA Designated Flight Examiner in which capacity he gave aspiring pilots their final test before they received their pilot's licenses. He personally trained hundreds of pilots in Southern Arizona over more than 30 years. In 1972, he became a FAA Accident Prevention Counselor and worked tirelessly to enhance aviation safety. In 1980 he was recognized by the U.S. Department of Transportation with the FAA Flight Instructor of the Year District Award.
Note:

In the military, flew the"Hump" and trained pilots at Marana field. Over 28,000 flying hours as a pilot and flight instructor to several generations of Arizona pilots.