Frederick E. Ferguson
Arizona Aviation Hall of Fame
Enshrined 2001

Born in Pilot Point, Texas on August 18, 1939, Fredrick E. Ferguson moved with his family to Phoenix, Arizona. Following his graduation in 1958 from Phoenix Union High School, he enlisted in the U.S. Navy and served as an Aviation Storekeeper until 1962. Ferguson's military education included U.S. Army Aviation School, Armor Officer Basic Course, Armor Officer Advanced Course and Army Command and General Staff College. In 1966, he was appointed Warrant Officer for the U.S. Army on Active Duty. He received his wings as Army Aviator in May 1967.
In 1967 he served in the Republic of Viet Nam as a helicopter Pilot/Aircraft Commander for the 1St Air Cavalry Division. It was during this tour of duty that a daring rescue earned him the Medal of Honor. Amid heavy fighting during the Tet Offensive on January 31, 1968, American soldiers in a UH-1 Huey helicopter were downed at a South Vietnamese compound. Once on the ground they found themselves surrounded by attacking North Vietnamese. Warrant Officer Ferguson, flying a logistical mission nearby, joined the flight of gunships. He was advised —but not ordered — not to try, yet he went in, took many hits and successfully delivered his wounded passengers to a clinic at Phu Bai.
Named "Military Aviator of the Year," awarded the "President's Award," inducted in the U.S. Army Aviation Hall of Fame, Frederick E. Ferguson has a long line of noteworthy honors, awards and decorations. The Congressional Medal of Honor, Viet Nam Cross of Gallantry with Silver Star and the Silver Star with Oak Leaf Cluster are only a few of his most notable awards.
Long after Viet Nam, he served as a Major in the Arizona Army National Guard but reverted to Chief Warrant Officer rank in order to continue as a UH-1 instructor pilot. In civilian life, Frederick Ferguson was equally successful, working as an administrator for the Arizona Department of Veteran Services, an instructor pilot for the Arizona Army National Guard and Vice President and Sales Manager of the Arizona Janitor Supply Company.
Frederick Ferguson is an extraordinary man who is distinguished for his extraordinary courage in combat, gallantry and determination.
---
Ronald R. Fogleman
Arizona Aviation Hall of Fame
Enshrined 1999

General Ronald Fogleman retired from the USAF on 1 September 1997 after 38 years of distinguished service. On his final tour of duty General Fogleman served as the 15th Chief of Staff of the United States Air Force, a member of the Joint Chiefs of Staff and as a military advisor to the Secretary of Defense, the National Security Council, and the President.
General Fogleman has extensive experience in fighter and mobility aircraft, accumulating over 6800 hours total time His fighter experience includes operational tours in the F-100, F-15F, F-16, and the A-10.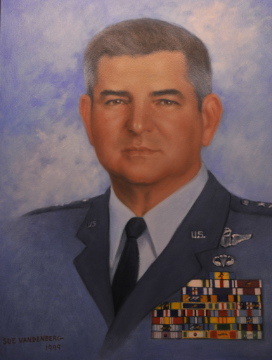 He served two tours in Southeast Asia during the Vietnam War, flying 315 combat missions while logging 806 hours of combat fighter time. His airlift and tanker experience includes the support of humanitarian and contingency operations while commanding the Air Mobility Command.
While commanding 836th Air Division at Davis-Monthan Air Force Base in Tucson, AZ, General Fogleman made a lasting impression on our Tucson community as a man of integrity, energy and outstanding leadership qualities. General Fogleman has homes in Tucson, Arizona and Durango, Colorado.
---
Joseph Jacob (Joe) Foss
Arizona Aviation Hall of Fame
Enshrined 2002

Aces of Aces, Joe Foss is a hero's hero for all his great work in war and peace
Among real-life heroes, Joseph Foss was a living legend. The combination of his combat record on World War II and many years of public service has no equal. Born in 1915 in South Dakota , he resided in Scottsdale, AZ until his death in 2003. Joe went to war as a young Marine Corp fighter pilot and came home as a seasoned veteran, hoping to help make the world a better place by engaging in worthy causes and institutions at the State and on a National level.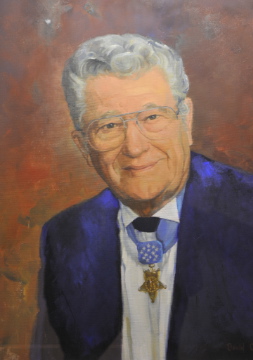 The former farm boy's years of marksmanship as a hunter paid off in the South Pacific where he shot down 26 enemy aircraft in 63 days, becoming the first American pilot to tie Eddie Rickenbacker's score in WWI. He also survived several crash landings and once had to ditch his F4F at sea. For extraordinary bravery in combat, President Franklin D. Roosevelt awarded him the Medal of Honor at White House ceremonies in 1943.
The Highly decorated Joe Foss personifies the true American patriot and selfless humanitarian. A former Governor of South Dakota, he retired from the South Dakota Air National Guard as Chief of Staff with the rank of Brigadier General. He was the past president of the Air Force Association, the American Fighter Aces, and the National Rifle Association, among numerous other organizations. He served a decade as international chairman of Here's Life World.
He was also the first commissioner of the American Football League, co-author of two books, Top Gun and A Proud American: Joe Foss, he was in constant demand as a speaker on a variety of topics ranging from law enforcement to the ministries. He continued to be a strong advocate of all components of civil and military aviation. Throughout his lifetime of service to people everywhere, the works and deeds of Joe Foss have truly made a difference.