Joseph Jacob (Joe) Foss
Arizona Aviation Hall of Fame
Enshrined 2002

Aces of Aces, Joe Foss is a hero's hero for all his great work in war and peace
Among real-life heroes, Joseph Foss was a living legend. The combination of his combat record on World War II and many years of public service has no equal. Born in 1915 in South Dakota , he resided in Scottsdale, AZ until his death in 2003. Joe went to war as a young Marine Corp fighter pilot and came home as a seasoned veteran, hoping to help make the world a better place by engaging in worthy causes and institutions at the State and on a National level.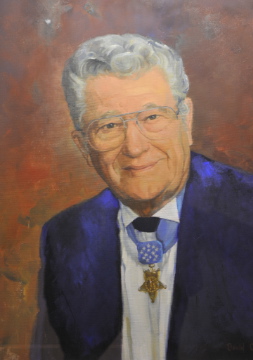 The former farm boy's years of marksmanship as a hunter paid off in the South Pacific where he shot down 26 enemy aircraft in 63 days, becoming the first American pilot to tie Eddie Rickenbacker's score in WWI. He also survived several crash landings and once had to ditch his F4F at sea. For extraordinary bravery in combat, President Franklin D. Roosevelt awarded him the Medal of Honor at White House ceremonies in 1943.
The Highly decorated Joe Foss personifies the true American patriot and selfless humanitarian. A former Governor of South Dakota, he retired from the South Dakota Air National Guard as Chief of Staff with the rank of Brigadier General. He was the past president of the Air Force Association, the American Fighter Aces, and the National Rifle Association, among numerous other organizations. He served a decade as international chairman of Here's Life World.
He was also the first commissioner of the American Football League, co-author of two books, Top Gun and A Proud American: Joe Foss, he was in constant demand as a speaker on a variety of topics ranging from law enforcement to the ministries. He continued to be a strong advocate of all components of civil and military aviation. Throughout his lifetime of service to people everywhere, the works and deeds of Joe Foss have truly made a difference.