John Clifford Garrett
Arizona Aviation Hall of Fame
Enshrined 1994

John Clifford (Cliff) Garrett was born in Seattle, Washington. He studied engineering at UCLA and was introduced to aviation through early associations with Lockheed, Northrop and Douglas. In 1936 he formed his own company, Aircraft Tool & Supply, which became The Garrett Corporation and is now part of AlliedSignal. He was a pioneer in the science of high altitude flight in air and space. As a result of his innovative efforts, the company became a world leader in aircraft pressurization systems.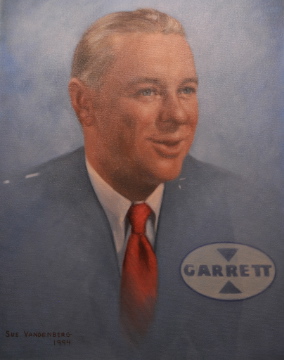 The small gas turbine he developed for auxiliary power units also resulted in the first on-board pneumatic starting system for modern aircraft. And his APU ultimately led to one of the most popular propulsion engines in worldwide service today. Much of his work is still done in Phoenix where in 1941 he established new facilities to meet the needs of a nation at war. Although known for his advances in aerospace technology, he's also noted for his revolutionary concepts in labor‑ management relations. To entrepreneur Cliff Garrett, all employees were family.
---
John Richard Gasho Sr.
Arizona Aviation Hall of Fame
Enshrined 2004

Born in Columbus, Ohio in 1941, John Gasho, Jr. was two years old when the family moved to Tucson, Arizona, where he has resided ever since. John Gasho was destined to be involved with aviation. He took his first commercial passenger flight when he was 12 days old. After a tour in the Air force, he entered civilian life and furthered his education. While employed, he found time to learn to fly on the G.I. Bill.
He bought and eventually restored a 1940 Piper J-4 Cub to original factory configuration. That aircraft now hangs at the Pima Air and Space Museum. His company, Western International Aviation, Inc. has restored, modified, regenerated and done original certifications for over 400 surplus military aircraft.
Equally significant, he has designed and built special tools, machines, instrument panels, flight decks, engine stands, propeller dollies and various other innovations that enhance and assist the aviation community to do a better job.
---
Laurence Gesell
Arizona Aviation Hall of Fame
Enshrined 2008

Laurence Gesell has been involved with aviation for most of his adult life. In 1957 he enlisted in the U.S. Army as a Private and accomplished the rare feat of rising into the officer ranks, eventually becoming a Lieutenant Colonel. He flew helicopters with the Army in Vietnam and was awarded the Distinguished Flying Cross, the Bronze Star and 39 Air Medals. His military service continued in the Naval Reserve, Army National Guard and Army Reserve until his retirement in 1999.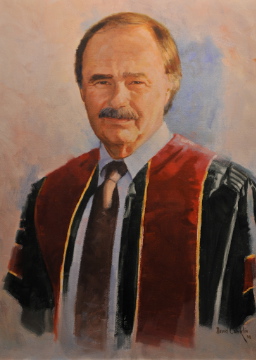 Dr. Gesell received his PhD from Arizona State University in 1990 where he has served on the faculty for more than 22 years as Professor of Air Transportation Management. He has published 17 books on aviation management, aviation law and ethics. He is a dedicated community volunteer with the Boy Scouts of America and the LDS church. In addition to his aviation publication, he has published 2 non-fiction documentaries relating to the history of Arizona and the Southwest.
Note: An aviator, air traffic and airspace officer, civil airport manager, professor of air transportation management, author and publisher.
---
R.D. "Hoot" Gibson
Arizona Aviation Hall of Fame
Enshrined 2003

Korean jet ace, leader of USAF Thunderbirds, Hoot Gibson is a hero's hero.
R. D. "Hoot" Gibson, a resident of Tucson, Arizona since retiring from the U.S. Air Force as a colonel in 1974, was born in Illinois in 1924. He is a highly decorated veteran of three wars, WWII, Korea and Vietnam. During the Korean War, he became America's third jet ace, shooting down five MiG-15s in his F-86 and probably destroying or damaging five others. Over his protest, he was recalled from combat to deliver motivational talks.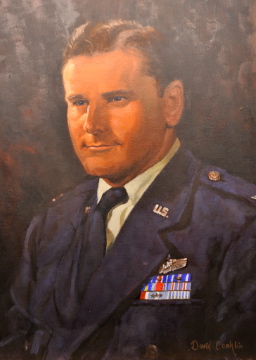 Hoot held numerous posts in the U.S., Europe and Southeast Asia. At Nellis AFB, Nevada, he had several important assignments, first at the Fighter Weapons School, then flying F-100s with the USAF Thunderbirds. During a two year tour as leader, Hoot took the team to 40 states and 14 Central and South American countries. His goodwill aerial demonstration tour is still recognized as one of the most successful in Air Force History.
Later, based in Thailand, Hoot commanded the 433rd Tactical Fighter Squadron, flying 105 bombing and strafing missions in F-4s against North Vietnam. But his contributions in the service of his country go beyond his skill as a fighter pilot. As a member of the elite Doolittle Commission, he helped develop design criteria for advanced weapon systems. He also served on the Fogleman Air Board, formed to assess defense requirements in the Pacific.
Following his distinguished 31 year Air Force career, in which he won many awards for valor and honorable achievement, Hoot formed his own real estate agency and became active in civic affairs. His volunteer work has done much for community and military interests and relationships at all levels. And no one better exemplifies the true American spirit, nor is more deserving of enshrinement in the Arizona Aviation Hall of Fame than Ralph D. "Hoot" Gibson.
---
Barry Goldwater
Arizona Aviation Hall of Fame
Enshrined 1990

Barry Goldwater was born in Phoenix, AZ and began flying in 1930.
He joined the Army Air Corp in 1941 and served in the Air Transport Command and in the Burma-India Theater. After WWII he helped formed the Arizona National Guard and he joined the Air Force Reserve as a pilot, attaining the rank of major general. Barry Goldwater was elected to the U.S. Senate in 1952. Serving on the Senate's Armed Service, Science and Transportation, and Intelligence Committees, Goldwater either sponsored or supported virtually all legislation that enhanced the nation's security. His contributions to U.S. Intelligence capabilities, space development, and aviation in general are unequaled.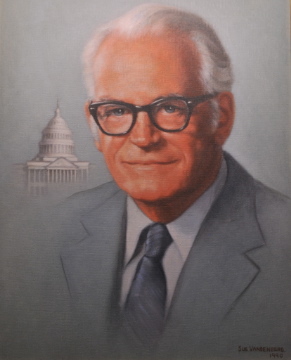 ---
Leon W. Gray
Arizona Aviation Hall of Fame
Enshrined 1993

Leon Gray was born in Lockney, Texas, and grew up in Tucson, Arizona. He entered the Army Air Corps in 1938 after graduating from the University of Arizona. During World War II he commanded the 325th Fighter Wing. He served over two years in the European Theater, flying 420 combat hours in various types of fighters and fighter/bombers. He received numerous decorations for bravery in combat, including the coveted Distinguished Service Cross for his "extraordinary heroism" piloting an unarmed P-38 (F-5) on critical photo reconnaissance missions against the enemy.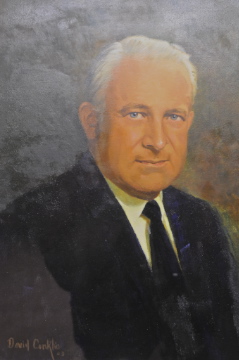 After the war, in both 1946 and 1947, he won the jet division of the famed Bendix Trophy Race, flying America's first operational jet fighter, the Lockheed P-80. In 1959 his USAF team, flying supersonic F-104s, won the prestigious William Tell missile competition. He is also credited with refining jet training methods while commanding units at various USAF bases, including Williams, Luke and Davis-Monthan in Arizona. Leon Gray retired a colonel in 1967.
---
James R. Greenwood
Arizona Aviation Hall of Fame
Enshrined 1996

James R. (Jim) Greenwood was born in Washington, D.C. An internationally recognized spokesman for aviation for over 40 years, he is a World War II Navy veteran and former journalist, parachutist and pilot. At Hawthorne School of Aeronautics, Beech Aircraft and Learjet, his innovative programs promoting aviation's many benefits became models for the industry. And as director of public affairs for the Federal Aviation Administration in the early 1970's he spearheaded government/industry efforts to restore public confidence in air travel. He also authored the U.S. Department of Transportation's first public information policy manual.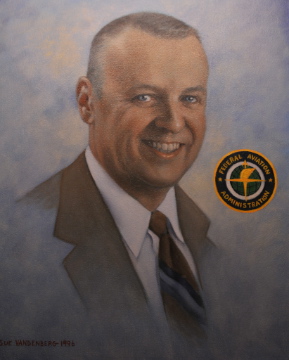 Later he played a pivotal role in bringing Gates Learjet to Tucson where, in 1985, he retired as senior vice president for corporate affairs. While a director of the Tucson Air Museum Foundation of Pima County, he was instrumental in establishing the Arizona Aviation Hall of Fame and the Aero Club of Arizona. An award-winning author, he serves on several national boards, including the General James H. Doolittle Library and Aviation Space Writers Foundation. His numerous awards include the Federation Aeronautique Internationale's Paul Tissandier Diploma for "a lifetime of service to the cause of aviation."
---
A.V. "Snag" Grossetta
Arizona Aviation Hall of Fame
Enshrined 1996

A.V. "Snag" Grossetta was born in Tucson, Arizona. He is a highly decorated World War II P-47 pilot who flew combat missions in both the Pacific and European theaters. After fighting the Japanese and the weather in the Aleutians, he became commander of the 406th fighter-Bomber Group. The 406th provided close ground support for General George S. Patton's Third Army as it moved through France and Germany, and for the 101st Airborne at Bastogne. He was the only commander in the 9th air Force to lead an air group the entire time it was in combat.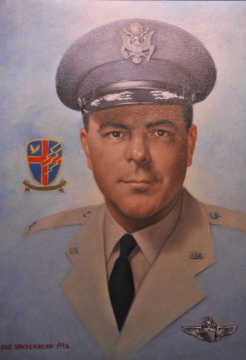 In 1959 he retired as an Air Force colonel, returning to Tucson where he became active in community affairs. He was one of five local civic leaders who organized the Pima Air & Space Museum. Later he helped acquire the museum's B-24 bomber from the Indian Air Force and then bring it to Tucson.
From 1961 to 1979 he served with distinction on the Tucson Airport Authority, including a year as its president. He also served on the boards of the Tucson Medical Center, Tucson Electric Power Company and Mountain States telephone. Colonel Grossetta's unique abilities and selfless efforts have contributed immeasurably to the economic and cultural progress of all Arizona.