A.V. "Snag" Grossetta
Arizona Aviation Hall of Fame
Enshrined 1996

A.V. "Snag" Grossetta was born in Tucson, Arizona. He is a highly decorated World War II P-47 pilot who flew combat missions in both the Pacific and European theaters. After fighting the Japanese and the weather in the Aleutians, he became commander of the 406th fighter-Bomber Group. The 406th provided close ground support for General George S. Patton's Third Army as it moved through France and Germany, and for the 101st Airborne at Bastogne. He was the only commander in the 9th air Force to lead an air group the entire time it was in combat.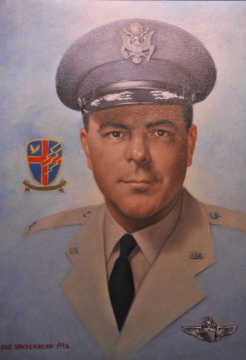 In 1959 he retired as an Air Force colonel, returning to Tucson where he became active in community affairs. He was one of five local civic leaders who organized the Pima Air & Space Museum. Later he helped acquire the museum's B-24 bomber from the Indian Air Force and then bring it to Tucson.
From 1961 to 1979 he served with distinction on the Tucson Airport Authority, including a year as its president. He also served on the boards of the Tucson Medical Center, Tucson Electric Power Company and Mountain States telephone. Colonel Grossetta's unique abilities and selfless efforts have contributed immeasurably to the economic and cultural progress of all Arizona.