Gordon B. Hamilton
Arizona Aviation Hall of Fame
Enshrined 2001

Gordon B. Hamilton is considered to be the "Grand Old Master" of the aviation industry. Born into a military family in 1922 at Fort MacArthur, California his family moved to Tucson, Arizona when he was a young child. He began his flying career at age 14, trading baby-sitting time for flying time. Five years later he operated a flying service at Van Nuys, California. In 1942, while employed by Lockheed in Burbank, California he learned the fundamentals of advanced aeronautical design from none other than Kelly Johnson, creator of the secret Skunk Works. While at Lockheed he worked on the Constellation, the P-38 and other famous aircraft.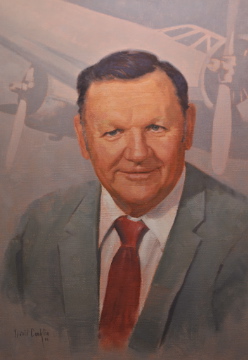 During World War II, Hamilton flew a Piper L-4 spotter aircraft for the U.S. Army Field Artillery and later was a sergeant in the U:S. Army Air Forces, where he was a flight test engineer and inspector. Returning to Tucson in 1945, he pursued his career in aviation, this time as the operator of his own business, Hamilton Aviation.
In 1947 Hamilton established a CAA approved repair and overhaul station, which developed into Hamilton Aviation. He soon became the leading source for converting twin Beeches, and later Convairs, to turbine power. In 1966, with financial assistance from a small business loan, Hamilton was contracted by the Brazilian Air Force to overhaul its B-26 Invader fleet. Soon after the contract was complete, the Small Business Administration in Washington, D.C. named Mr. Hamilton Small Businessman of the Year.
Hamilton is credited with developing 96 Supplemental Type Certificates (S.T.C.$) for modification of various aircraft. With customers from all over the world, Gordon Hamilton had the privilege of meeting with heads of state, kings, congressmen and movie stars. In 1966 his lifetime of work was recognized when he was given the Federal Aviation Administration's Charles Taylor Master Mechanic Award for service, technical expertise, professionalism and many outstanding achievements over the years.
Gordon B. Hamilton died on March 23, 1997 leaving a legacy of innovation, dedication and integrity.
---
Barbara Lee Harper
Arizona Aviation Hall of Fame
Enshrined 2010

Barbara Lee Harper was born on November 25, 1937 in San Diego, California. She came to Arizona in the early 1970s and took a job as a flight instructor at Tucson International Airport. Barbara has been a member of the Civil Air Patrol since 1971. She served as the chief pilot for the Davis-Monthan AFB Aero Club from 1975 to 1984.
In 1989, Barbara went to work for Continental Airlines as a pilot. She flew for them until her retirement in 1998. She has also worked part-time performing aerial survey work for organizations studying archeological sites. This inspired her to get a Bachelor's Degree in Anthropology from the University of Arizona. She has also received Masters and Doctoral Degrees from the University of Phoenix in Organizational Management.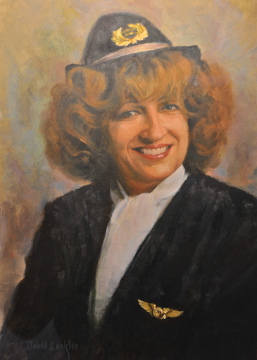 Barbara has worked extensively with both the FAA and pilot's organizations to improve aviation communications and enhance flight safety. She is a member of numerous aviation organizations including; Operations Council of the Tucson Airport Authority, Arizona Aero Club, Arizona Pilots Associations, International Society of Women Airline Pilots, The 99s, and National Aeronautic Association.
---
A. Howard Hasbrook
Arizona Aviation Hall of Fame
Enshrined 1992

A. Howard Hasbrook was born in Trenton, New Jersey and grew up in DuBois, Pennsylvania. During World War II, he served as a civilian flight instructor and engineering test pilot for the U.S. Army Corps. He later became interested in flight safety and crash survival design as the result of being seriously injured in an aircraft accident. In 1950, Howard joined Cornell University's Crash Injury Research Program and became its Director in 1955. He later moved the Program to Arizona. In 1960, he joined the FAA's Civil Aeromedical Research Institute in Oklahoma City as a senior research scientist and chief of crash safety and flight performance.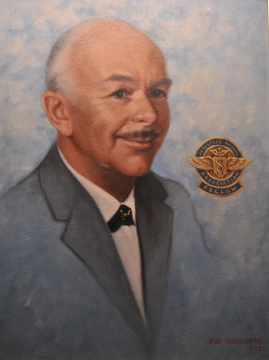 Howard Hasbrook's aviation career spans 57 years and involves flight research, flight safety, crash injury investigation and crash survival design. He pioneered the use of restraint systems in automobiles and aircraft, crash injury investigation, analysis and reconstruction of air carrier accidents, crashworthy design and the delethalization of aircraft cabin/cockpit interiors. He is the recipient of many awards and honors and is Fellow in Aerospace Medicine. The Life Sciences and Biomedical Engineering Branch of the Aerospace Medical Association has named an award in his honor. Howard is a commercial pilot with multiple ratings and has logged more than 16,000 flying hours.
---
Raymond L. Haupt
Arizona Aviation Hall of Fame
Enshrined 2002

Test pilot for spy planes, Ray Haupt
became an expert on leading edge technology
Brigadier General Raymond L. (Ray) Haupt, USAF (Ret.), a resident of Tucson, Arizona, for the past 27 years, was born in Missouri in 1927. His distinguished 30-year Air Force career included early secret test flights on some of America's highest flying and fastest reconnaissance aircraft such as the U-2 and SR-71. During the Cold War, many of his flights were over hostile territories, and much of his most significant work is still classified.
Beginning his service as a fighter pilot, Ray Haupt soon recognized the importance of strategic reconnaissance. He became one of the first five instructor pilots on the U-2 program and helped develop operational techniques and procedures for both the U-2 and SR-71 Blackbird. His leadership qualities were apparent early on and he soon held a number of top management positions, including command of the 100th Strategic Reconnaissance Wing.
Ray was subsequently assigned to the Joint Chiefs of Staff at the Pentagon as Director of Reconnaissance and Electronic Warfare, and was selected to direct several secret projects involving security systems not necessarily related only to the Air Force. He also worked closely with the Secretary of Defense and his deputies. In 1973, Ray assumed command of the 12th Strategic Air Division at Davis-Monthan Air Force Base in Tucson.
General Haupt retired in 1975. His military decorations include two Distinguished Flying Crosses and numerous Air Medals and Air Force Commendation Medals. His peers describe him as a "pilot's pilot" and an "instructor's instructor," honors reserved only for fliers with exceptional skills. General Haupt's many contributions to his country and to Arizona merit the wholehearted appreciation of a grateful citizenry.
---
Vernon V. Haywood
Arizona Aviation Hall of Fame
Enshrined 1993

Vernon Haywood was born in Raleigh, North Carolina. In 1938-1940 he attended Hampton University where he received his primary flight instruction in the Civilian Pilot Training Program. Then in 1941 he went to Tuskegee Institute for secondary training and soon became an aviation cadet in the Army Air Force. During World War II he served 15 months as a fighter pilot in the Mediterranean Theater, flying P-39s, P-47s and P-51s. Assigned to Williams AFB in 1949, he was one of the first four black jet flight instructors in the U.S. Air Force.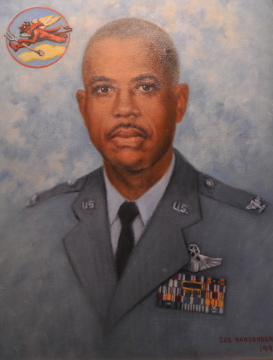 By serving so effectively as an instructor, then flight and section commander, he helped certify the goal of total integration in the armed forces. And the exemplary performance of Haywood and his colleagues also did much to advance civil rights and topple other racial barriers throughout all America. A highly decorated and respected leader, he continued his illustrious USAF career until retiring a colonel in 1971. Vernon Haywood's record of achievement brought great credit to Arizona and the nation.
Note:

Tuskegee Airman, awarded the Congressional Gold Medal posthumously in 2006.
---
Ruth Helm and Dawn Seymour
Arizona Aviation Hall of Fame
Enshrined 1993

Ruth Helm was born in 1916 in Grapeland, Texas. She was in WASP Class 43-2 out of Hughes Field in Houston, Texas. Ruth ferried pursuit (fighter) aircraft. Ruth served as WASP National Treasurer, 1990-92 and WASP National Vice President 1992-94 and is an Associate Member of the Order of Daedalians. She founded Thunderhead Ranch, one of the first fly-in guest ranches.
Dawn R.B. Seymour was born in 1917 in Rochester, New York. She was in WASP Class 43-5 at Avenger Field, Sweetwater, Texas. Dawn ferried B-17 aircraft (only 13 WASPs qualified). She served as WASP National President from 1982-84 and chaired the WASP Memorial Committee.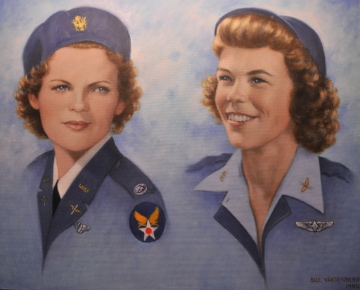 Of the 1830 candidates admitted to the WASP program, 1074 graduated and served as WASPs. The WASPs delivered 12,650 aircraft of 77 types and models to military destinations around the world during WWII. WASPs delivered 50 percent of the fighter aircraft from aircraft manufacturers to Air Corps installations. Thirty-eight WASPs died serving their country as members of the Women Air Service Pilots.
The induction of Ms. Helm and Ms. Seymour into the Arizona Aviation Hall of Fame pays tribute to their aviation skills and their service to our country during WWII. As WASPs their duel-induction is intended to also symbolically recognize all their WASP sisters who served our nation using their piloting skills during the war.
Note:

Nearly 200 WASP's, including Ruth Helm and Dawn Seymour were awarded the Congressional Gold Medal. It is the highest honor for civilians.

Past Honorees: In 2000 the Navajo Code Talkers and in 2006 the Tuskegee Airmen
---
Alfred A. Hudgin
Arizona Aviation Hall of Fame
Enshrined 1993

Alfred Hudgin was born in Nogales, Arizona. He learned to fly in 1927 and in the following years he created a unique stable of successful family-owned aviation enterprises that contributed significantly to local and state economies. He bought his first airplane in 1931 and went on to establish aviation facilities at Del Rio, Texas, Nogales and Tucson. During World War II he became chief of operations for Consolidated Vultee's Tucson plant. After the war he founded and headed Hudgin Air Service and Hudgin Aero – Tech in Tucson. Hudgin operations included air taxi and charter service, aircraft sales and service, and flight training.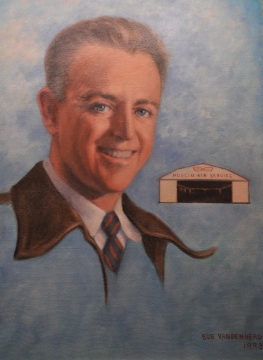 In 1960 he became owner and operator of Grand Canyon Airlines. He also developed procedures for dropping forest fire fighters and supplies in fire zones which are still in use today. A true pioneer and a positive force in Arizona aviation, Al Hudgin's remarkable career ended in a bizarre helicopter accident near Flagstaff in 1961.