Gordon B. Hamilton
Arizona Aviation Hall of Fame
Enshrined 2001

Gordon B. Hamilton is considered to be the "Grand Old Master" of the aviation industry. Born into a military family in 1922 at Fort MacArthur, California his family moved to Tucson, Arizona when he was a young child. He began his flying career at age 14, trading baby-sitting time for flying time. Five years later he operated a flying service at Van Nuys, California. In 1942, while employed by Lockheed in Burbank, California he learned the fundamentals of advanced aeronautical design from none other than Kelly Johnson, creator of the secret Skunk Works. While at Lockheed he worked on the Constellation, the P-38 and other famous aircraft.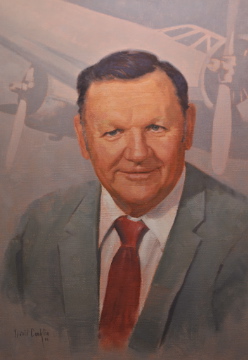 During World War II, Hamilton flew a Piper L-4 spotter aircraft for the U.S. Army Field Artillery and later was a sergeant in the U:S. Army Air Forces, where he was a flight test engineer and inspector. Returning to Tucson in 1945, he pursued his career in aviation, this time as the operator of his own business, Hamilton Aviation.
In 1947 Hamilton established a CAA approved repair and overhaul station, which developed into Hamilton Aviation. He soon became the leading source for converting twin Beeches, and later Convairs, to turbine power. In 1966, with financial assistance from a small business loan, Hamilton was contracted by the Brazilian Air Force to overhaul its B-26 Invader fleet. Soon after the contract was complete, the Small Business Administration in Washington, D.C. named Mr. Hamilton Small Businessman of the Year.
Hamilton is credited with developing 96 Supplemental Type Certificates (S.T.C.$) for modification of various aircraft. With customers from all over the world, Gordon Hamilton had the privilege of meeting with heads of state, kings, congressmen and movie stars. In 1966 his lifetime of work was recognized when he was given the Federal Aviation Administration's Charles Taylor Master Mechanic Award for service, technical expertise, professionalism and many outstanding achievements over the years.
Gordon B. Hamilton died on March 23, 1997 leaving a legacy of innovation, dedication and integrity.