Vernon V. Haywood
Arizona Aviation Hall of Fame
Enshrined 1993

Vernon Haywood was born in Raleigh, North Carolina. In 1938-1940 he attended Hampton University where he received his primary flight instruction in the Civilian Pilot Training Program. Then in 1941 he went to Tuskegee Institute for secondary training and soon became an aviation cadet in the Army Air Force. During World War II he served 15 months as a fighter pilot in the Mediterranean Theater, flying P-39s, P-47s and P-51s. Assigned to Williams AFB in 1949, he was one of the first four black jet flight instructors in the U.S. Air Force.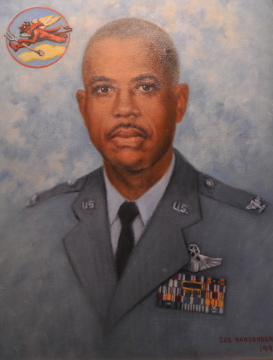 By serving so effectively as an instructor, then flight and section commander, he helped certify the goal of total integration in the armed forces. And the exemplary performance of Haywood and his colleagues also did much to advance civil rights and topple other racial barriers throughout all America. A highly decorated and respected leader, he continued his illustrious USAF career until retiring a colonel in 1971. Vernon Haywood's record of achievement brought great credit to Arizona and the nation.
Note:

Tuskegee Airman, awarded the Congressional Gold Medal posthumously in 2006.