Ralph S. Johnson
Arizona Aviation Hall of Fame
Enshrined 2006

A pioneer in aviation, Ralph Johnson began his flying career in 1930 after graduating from Purdue University, with a Bachelors Degree in Aeronautical Engineering. Johnson grew up around aircraft and recounts "wanting to be around aircraft since my earliest memory." Johnson had a distinguished career serving in the Army Air Corps, United Airlines and General Aviation. Johnson operated WWII bombers such as the B-18. B-17 Flying Fortress, C-82 Packet, B-25 Mitchell, B-26 Invader, DC-3, DC-4 and Lockheed PV-2 Harpoon, to name a few.

Mr. Johnson is credited with many accomplishments and innovations in his career, including the propeller deicing system, the flight deck coordinator, and the wing tip dispensing system. The flight deck coordinator, a scrolling checklist used by major airlines and the military, is still in use today; thousands were made by Johnson's Master Equipment Company. Among Johnson's legacies are also the stabilized glide path approach, the systematic use of a checklist, and the cockpit resource management (referred to as Aircrew Team Dynamics, or Crew Coordination). As one of the few flying octogenarians, Johnson has surely left the aviation community much better than he found it.
Note:

Donated a Lockheed PB -2 to the Pima Air and Space Museum.
---
David M. Jones
Arizona Aviation Hall of Fame
Enshrined 1998

David M. Jones is an Alumnus of Tucson High and the University of Arizona. He was commissioned through the ROTC at the University of Arizona and won his wings at Kelly Field, Texas.
In April 1942, David flew his B-25 off the deck of the aircraft carrier "Hornet" and, as a member of the "Doolittle Raiders," participated in the first US raid on Tokyo in World War H. Later, while flying a Martin Marauder B-26 in bombing raids against Hitler's Third Reich, David was shot down over Germany and spent the remainder of the war as a POW in Stalag III.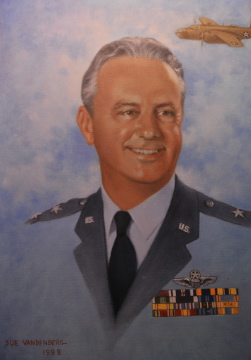 After WW II, David became an Air Force test pilot and helped develop USAF test procedures for the operational testing of advanced military aircraft. He played an important role in the development of the advanced B-58 "Hustler" bomber. David is a member of the Order of Daedalians and the Society of Experimental Test Pilots.
He subsequently retired with the rank of Major General. In his post-retirement years, he has served with distinction on the Boards of many civic and educational institutions.