Joseph La Placa
Arizona Aviation Hall of Fame
Enshrined 2005

Joseph La Placa is rated as a flight instructor single engine land, single engine sea, multi-engine land, single engine instrument, multi-engine, private, commercial, and Airline Transport Pilot. Mr. La Place has over 18,000 hours of flying time, including over 14,000 of flight instruction. Mr. La Placa has achieved FAA certificates for Pilot Examiner, Airplane Written Test Examiner, and Safety Counselor and is a certified A & P Mechanic.

The consummate instructor, he has become known throughout Arizona and other parts of the Nation for his emphasis developing safe, effective pilots from virtually around the world. Mr. La Placa was awarded Flight Instructor of the Year for his district in 1991 by the FAA.
---
Irene Leverton
Arizona Aviation Hall of Fame
Enshrined 2004

Irene Leverton, a resident of Chino Valley, Arizona since 1988, was born in Chicago, Illinois in 1927. Irene was probable born several years early, because as a little girl, she played with model airplanes instead of dolls. She dreamed of being a fighter pilot, and of flying international ferries. In the 40's, 50's and 60's, in a man's world, those dreams would prove difficult to fulfill. Nevertheless, flying has been Irene's life.
She started as a duster and sprayer pilot, and then became a wartime flight instructor, teaching primary, advanced and aerobatic courses.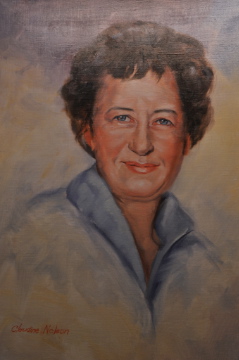 Later she instructed in gliders. Irene ferried aircraft, flew air ambulances, charters, and operated her own taxi service and flight school. She has flown as and executive pilot, scheduled commuter captain and for the Forest Service. For 14 years Irene was an FAA designated pilot examiner.
She was part of the Mercury 13, a group of women who volunteered and passed the Mercury Space Program's basic medical tests for becoming an astronaut. Irene has frequently been involved with the Civil Air Patrol as a volunteer since 1944. She keeps her airline transport and flight instructor certificates current. Irene Leverton has been flying for 60 years and has accumulated 25,490 pilot hours in that period. She is also a motivational speaker, writer and an accomplished artist.
---
Joseph C. Lincoln
Arizona Aviation Hall of Fame
Enshrined 1992

Joseph Lincoln was born in Cleveland, Ohio and moved to Phoenix In 1931. He attended schools in California and Arizona, graduating from the University of Arizona After a three year stint in the Army Air Forces duringWorld War II. Joe earned a private pilot's license in 1947 but began soaring in 1956 at Falcon Field in Mesa. After buying his first sailplane he began his long association with soaring as a competitor in the National Soaring Championships As well as regional soaring contests. He won the Barringer Memorial Trophy in 1960 for the longest straight distance soaring flight in the U.S. – 455.5 miles from Prescott to Varadero, New Mexico. Joe was selected to the Helms Soaring Hall Of Fame in 1961 and in 1967 set a U.S. multiplace distance soaring record of just over 500 miles.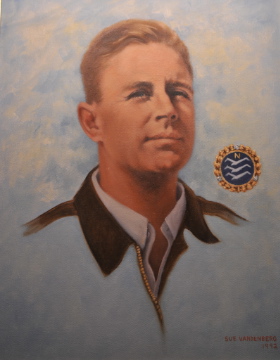 He also set a world multiplace goal and return record of 404.6 miles and a world multiplace 100 kilometer speed record of 72.93 mph. Joe Lincoln Wrote prolifically about the sport of soaring. His book"Soaring for Diamonds" wherein he relates his experiences which culminated in his winning soaring's most prestigious emblem – the Diamond C – is a classic in its field. He was President of the Arizona Soaring Association in 1957, a Director Of the Soaring Society of America, and was posthumously awarded the Soaring Society of America's Warren E. Eaton Memorial Trophy.
---
Frank Luke, Jr.
Arizona Aviation Hall of Fame
Enshrined 1990

Lt. Frank Luke, Jr. was born in Phoenix, AZ. and enlisted in the U.S. Army Aviation Section in 1917 at Tucson. Luke received his aviation wings after only 7 weeks of training.
In France, after further training he was assigned to the 27th Aero Squadron. In a period of only 13 combat days, he destroyed at least 5 German aircraft and 14 enemy balloons. 5 of Luke's Spad XIII aircraft were damaged beyond repair by enemy fire.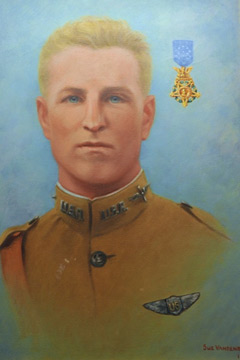 On Sept. 29, 1918, he brought down 3 enemy balloons, but was badly wounded and forced to land behind German lines. Refusing to surrender, he fired his pistol at German troops until fatally wounded. In addition to other honors, Lt. Luke received the Medal of Honor and 2 Distinguished Service Crosses. Luke Air Force Base was named in his honor.
Note:

Luke Field on Ford Island in Pearl Harbor, was also named for him.