Charles Eugene Mann
Arizona Aviation Hall of Fame
Enshrined 2014

Charles Mann was born in Shreveport, Louisiana on August 18, 1938. In 1945 his family moved to Chandler, Arizona where he lived until 1958. Charles began flying while still in high school and earned his private pilot's license soon after graduating in 1956. He attended the Embry Riddle International School of Aviation, the Ross School of Aviation, and Arizona State University between 1957 and 1959. While attending Arizona State he began working as a flight instructor for Arizona Aircoupe. He would continue to work as an instructor and corporate pilot though the 1960s. In 1965, he took on the job of General Manager for Rhodell Aviation and ran one of the most successful aerobatic flying schools in the United States. Mann trained numerous aerobatic competition and airshow pilots helping to launch their careers.

In 1968 Charles fulfilled a lifelong dream to be an airline pilot. He went to work for Bonanza Airlines in March of that year flying the Fokker F27 Friendship. Through several airline mergers through the 1990s he worked for Air West, Hughes Air West, Republic Airlines, and Northwest Airlines flying as first officer and captain of the F27, Douglas DC-9, and Boeing 727. Charles retired from Northwest Airlines in 1996. While working as an airline pilot he continued to own and operate several businesses in the Phoenix area that specialized in aircraft sales and flight simulator training. In 1998 he sold his share of the last of these, Aviation Simulation Technology, Inc., in order to retire. Mann is a member of the Quiet Birdmen and of the Silver Eagles organizations.
---
Charles W. Mayse
Arizona Aviation Hall of Fame
Enshrined 1992

Charles Mayse was born near Pawhuska, Oklahoma. He left school at the age of twelve and worked at odd jobs until serving as a truck driver for the Pershing Expedition in 1916. Later, he learned to fly and purchased a JH-4 in which he barnstormed throughout the midwest. He flew in Chihuahua, Mexico for the rurales in 1920 before returning to barnstorming in the U.S. Charley flew mail for a time in Honduras, but illness forced a return once again to barnstorming. In 1927 he leased the old Tucson Municipal Airport and opened the Mayse Flying School. The Mayse Air Service provided flying instruction, airplane sales and charter flights.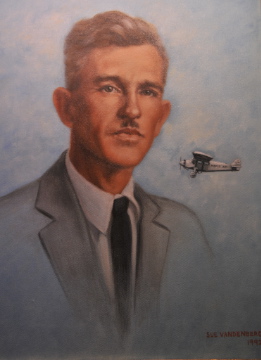 During the Depression, Charley flew charter flights from Sky Harbor in Phoenix. He took over the Douglas, Arizona International Airport in 1935 but left to train military pilots during World War II. Returning to Douglas, Charley resumed the job he had left during the war. Charley Mayse blazed a trail in the Arizona skies for others to follow. No other person did more to put Arizona in the forefront of aircraft safety and pilot training.
---
John S. McCain III
Arizona Aviation Hall of Fame
Enshrined 1997

John S. McCain was born August 29, 1936 in the Panama Canal Zone. He graduated from the U.S. naval Academy in June 1958. After graduation from Navy pilot training McCain had several assignments in fighter bomber squadrons. In Vietnam he served aboard the carrier USS Forrestal and USS Oriskany. On 26 October 1967, while flying an A­4Es off the Oriskany, McCain was shot down over Hanoi by a North Vietnamese missile. In the subsequent bailout, both arms and his right leg were broken. He then spent five and a half years as a POW, enduring an extreme amount of torture inflicted by the North Vietnamese guards who tried to break down his resolve. They failed! He returned to freedom in March 1973 and served at the Naval War College until July 1977. From July 1977 until retirement in 1981 as a Captain, McCain served in the office of Legislative Liaison for the Navy.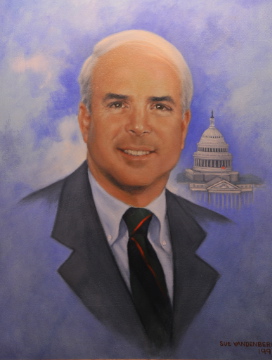 Following his retirement from the U.S. Navy in 1981 McCain moved to Arizona. He was elected to the U.S. House of Representatives from Arizona in 1982 and served two terms. He was elected to the U.S. Senate in 1986 and was reelected in 1992. He has served on the Senate Armed Services Committee, the Senate Committee on Government Affairs and the Senate Commerce, Science and Transportation Committee plus others. Through his committee assignments and endeavors McCain has provided steadfast support for general aviation and military pilots as well as the aviation industry.
---
Roy McCaldin
Arizona Aviation Hall of Fame
Enshrined 2005

During his World War II service, Lt. Roy McCaldin was shot down near Berlin flying a B-17. Listed as a MIA, he and his crew were recovered by the Russians and eventually returned to England.
After the war, he earned a Doctorate in Engineering, became a national leader in clean air research, and reached a top level of management with the United States Public Health Service.
In early retirement, Roy became deeply interested in soaring, setting records for distance and altitudes. In later years, Roy built his own replica of the World War I era Dehavilland-DH-4 aircraft. He has flown this aircraft all over the United States at hundreds of Air Shows entertaining young and old alike.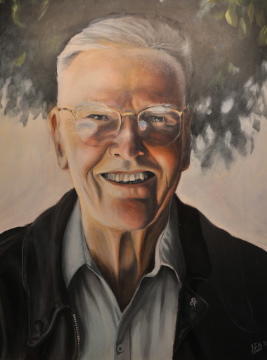 ---
Robert T. McCall
Arizona Aviation Hall of Fame
Enshrined 2001

Born in Columbus, Ohio, Robert T. McCall had an early fascination with space and astronomy. Attending Columbus College of Art and Design, McCall credits CCAD with preparing him well for his artistic success. World War II further helped him develop his skills as an aviation artist while serving as a bombardier on B-29 bombers.

Following military service, in 1957 McCall took a gamble when he left the security of a commercial art career and accepted a Life magazine assignment to create fanciful space flight illustrations. The gamble paid off. McCall pioneered the art form, becoming its first and most successful practitioner. NASA then opened its doors to McCall, from the first Mercury launches to the shuttles of today. Through his art, McCall has documented the NASA space program for more than thirty-five years. NASA's provision of this "front row seat" has allowed him to witness personally mankind's progress and turn it into the magnificent renderings that link us together as residents of Planet Earth.
Millions unknowingly use his smallest works — 23 space stamps for the U.S. Postal Service. Ten million visitors a year are in awe of his largest — a spectacular mural sweeping 68 feet along the lobby wall of Washington's National Air and Space Museum and soaring six stories at its highest point.
Robert McCall's work is prominently displayed in the Pentagon, the U.S. Air Force Academy, the Smithsonian and the National Gallery of Art in Washington, D.C., as well as in a number of distinguished private collections.
Working on projects such as the murals at Disney World's Epcot Center in Orlando Florida, the Johnson Space Center in Houston, as well as his illustrations for movies, Robert McCall has produced a rich tapestry that encompasses more than just the history of space exploration and visions of the future. In his works we see ourselves in a different light that McCall himself so eloquently defines: "The future is bright and filled with promise for us all. And the human spirit, driven as it is, with an insatiable desire to know, to explore and to understand, will continue forever to reach upward and outward." — Robert T. McCall.
Robert McCall and his wife, Louise, have lived in Paradise Valley, Arizona since 1970.
---
Charles O. Miller
Arizona Aviation Hall of Fame
Enshrined 1993

Charles Miller was born in Cleveland, Ohio. A Marine flier in World War II, he became a flight test engineer, an experimental test pilot, then a safety research director, lecturer and writer for a major university. But he is best known as a world authority on aircraft accident investigation and prevention. Formerly a director of the Bureau of Aviation Safety, National Transportation Safety Board, he pioneered human factors engineering and developed "system safety" as a recognized technical discipline. Many of his innovative safety concepts are now standard operating practice in the aerospace and other industries.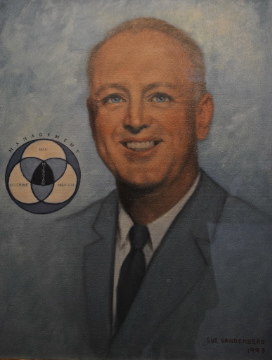 Miller has received numerous honors for his work, among them The Laura Taber Barbour Air Safety Award, Flight Safety Foundation Distinguished Service Award, and the International Safety Academy Safety Hall of Fame. In 1974 he founded System Safety, a consulting firm based in Sedona, Arizona, which specializes in advisory and educational services designed to prevent accidents by integrating safety management skills.
---
Michael F. Mitchell and Martha A. Mitchell
Arizona Aviation Hall of Fame
Enshrined 2002

Martha Anne Wilkins and Michael Francis (Mike) Mitchell shared a passion for flying and a dream of owning an aviation business. It must have been ordained that their individual achievements would one day produce a loving partnership. By the time they married in 1952, Martha and Mike Mitchell owned the Sky Harbor Air Service in Phoenix, Arizona. Their company provided flight training, aircraft maintenance, air charter and air ambulance services.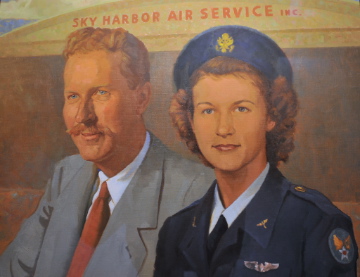 A remarkable pair who shared a love of flight and set new standards for aviation service
Learning to fly early in World War II, Martha qualified for flight duty in the WASPs (Women Air Force Service Pilots). While she was flying a wide range of military aircraft, including B-25, B-24 and B-17 bombers, Mike was directing an instrument training program for Southwest Airways, which trained thousands of Army Air Force pilots at four airfields in the Phoenix area — Sky Harbor, Falcon and Thunderbird I and II.
In 1946, Martha and Mike each bought a third interest in Sky Harbor Air Service*. Two years later Martha acquired the remaining third The enterprising couple operated the business until their retirement in 1985. Mike was also an FAA-designated flight examiner for such advanced ratings as instrument and air transport pilot. The company soon became widely known for the outstanding quality of its services and for its excellent customer relations.
After a long, productive career and more than 22,000 flying hours with a perfect safety record, Mike died peacefully in 1993. Today, the Mitchells' personal Beechcraft D-18 is permanently ensconced in the Smithsonian Institution's National Air and Space Museum. It is a fitting tribute to a remarkable pair who not only contributed so much to the growth of aviation in Arizona, but who epitomized what can be accomplished in America through hard work and determination.
Note:

Nearly 200 WASP's, including Martha A. Mitchell, were awarded the Congressional Gold Medal. It is the highest honor for civilians.
Past Honoree's Include:
• In 2000 the Navajo Code Talkers and in 2006 The Tuskegee Airman
• Later changed to "Mitchell Air Service"
---
Joseph A. Moller
Arizona Aviation Hall of Fame
Enshrined 1995

Joseph Moller was born in St. Louis, Missouri. In World War I, at the age of 17, he enlisted in the Army Air Service as a flying cadet, winning his wings at Kelly Field. Later he graduated from Cornell University and, as a research engineer for Pure Oil in the 1930s, he established the first aviation petroleum laboratory in the U.S. While there he also contributed significantly to the advancement of aviation and diesel fuels. During World War II he commanded the 390th Bombardment Group, leading more heavy bomber missions over Europe than any other senior commander.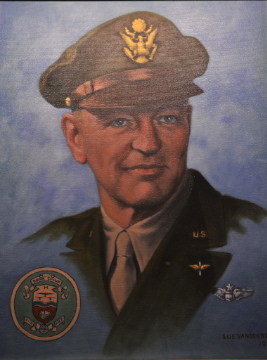 He also led Allied air forces in the largest aerial offensive of the war, November 6, 1944. His numerous awards include the Distinguished Flying Cross with several clusters, Legion of Merit, Silver Star and Air Medal. After the war he returned to Pure Oil, retiring to Arizona in 1948.
The following year he became commander of the 459th Bombardment Squadron (Very Heavy), USAFR. In 1980 he founded the 390th Memorial Museum Foundation. An Honorary member of the U.S. Air Force Academy Association of Graduates, Colonel Muller was buried at the Academy with full military honors in 1993.
---
Edwin Jones Montgomery, Sr.
Arizona Aviation Hall of Fame
Enshrined 2011

Edwin Montgomery, Sr. was born in Tucson Arizona on December 23, 1912. Growing up in Tucson, he graduated from Tucson High School and received degrees in Engineering and Education from the University of Arizona in 1934 and 1936. He taught mathematics at several schools in Arizona including the University Of Arizona.

After brief service in the Army he moved to California to work as an aeronautical engineer during World War II. In 1945 he returned to Tucson and founded Southern Arizona Airlines and its subsidiary, Arizona Helicopter Service, This was the First commercial helicopter business in the world and commenced operation on November 29, 1946 with a Bell 47D helicopter. Arizona Helicopter Service provided charter services over a wide area both within and outside of Arizona. In 1950 the business moved to Tusayan, Arizona near the Grand Canyon and focused on providing aerial tours of the canyon.
In addition, Montgomery's helicopters proved to be very effective at search and rescue within the canyon. Later in 1950 he returned to aeronautical engineering for the rest of his working life. He was recognized in 1976 by the Helicopter Association of America as the first commercial helicopter operator in the United States.
---
A. Lee Moore
Arizona Aviation Hall of Fame
Enshrined 1997


Born on November 27, 1899 in Pueblo, Colorado, A. Lee Moore held a love for aviation throughout his life. His parents moved to Phoenix in 1904 where he resided until his death in 1974.Having learned to fly in 1928 Moore Became one of the early pioneer Arizona aviators, accumulating over 7,000 hours in his log book. With Barry Goldwater, he bladed the first dirt runway at the airport we now know as Sky Harbor Airport. He was also a key figure in locating both Luke and Williams Army Airfields in the Phoenix area in 1940-41. Early in World War II he flew submarine hunting missions out of Mississippi. Later during 1944-45 he served as a flight instructor for British Cadets learning to fly at Falcon Field. The quality of his instruction brought him accolades from pilots in combat. When not flying, Moore was a mortician. Seeing the need for transporting critically ill or injured people from Arizona's remote areas to hospitals, he established the first Air Ambulance service in the Southwest. Whenever there was an illness or injury in any part of Arizona it became standard practice to call for A. Lee Moore and his airborne ambulance. Moore was a founding member of the Phoenix Aviation & Airport Commission on which he served for 27 years.
---
Gladys Mae Morrison
Arizona Aviation Hall of Fame
Enshrined 2002

Dusting crops to flying for hire,
Gladys Morrison has done it all, and then some
Ever since she learned to fly in 1945, Gladys Mae Morrison has been involved in just about every major segment of commercial aviation, including some areas then dominated by men. As managing partner of Davis Flying Service in California, she flew charters for the company's non-scheduled airline and established the syllabus for its VA-approved flying school. In 1950, she became the first woman licensed to fly crop dusters in the state of California.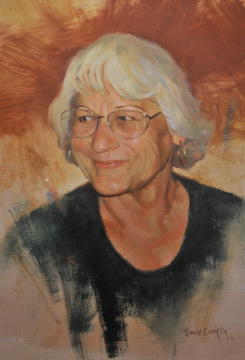 Gladys rose rapidly in her profession in the 1960s. She became a partner in Indio Flying Service and Desert Air Oasis. As assistant manager of Beechcraft West's Flite Center, she was in charge of all flight and ground training. At Fowler Aeronautics she wrote training manuals for all of the advanced FAA ratings, including air transport pilot, and instructed in the company's flight engineer ground school — the first woman to do so.
Moving to Prescott, Arizona, in 1967, she instructed, flew for the U.S. Department of Agriculture's Forest Service, headed the Yavapai College Aviation Department and produced a FAR Part 135 Operations Manual for Favor & Quail air taxi service. In 1975, Gladys joined North-Aire of Prescott where she set up the company's FAA-approved school. She also wrote its Part 135 Operations Manual and served as a check pilot for several air taxi companies.
Today she is president of the North-Aire International Accelerated Flight School. Over the years she has received numerous awards and honors for her contributions to flight safety and proficiency. In 1982, the FAA recognized her as National Flight Instructor of the Year. For her significant role in the advancement of America's air transport and flying training systems, Gladys Mae Morrison is now enshrined with honor in the Arizona Aviation Hall of Fame.