Joseph A. Moller
Arizona Aviation Hall of Fame
Enshrined 1995

Joseph Moller was born in St. Louis, Missouri. In World War I, at the age of 17, he enlisted in the Army Air Service as a flying cadet, winning his wings at Kelly Field. Later he graduated from Cornell University and, as a research engineer for Pure Oil in the 1930s, he established the first aviation petroleum laboratory in the U.S. While there he also contributed significantly to the advancement of aviation and diesel fuels. During World War II he commanded the 390th Bombardment Group, leading more heavy bomber missions over Europe than any other senior commander.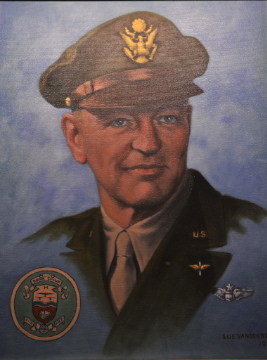 He also led Allied air forces in the largest aerial offensive of the war, November 6, 1944. His numerous awards include the Distinguished Flying Cross with several clusters, Legion of Merit, Silver Star and Air Medal. After the war he returned to Pure Oil, retiring to Arizona in 1948.
The following year he became commander of the 459th Bombardment Squadron (Very Heavy), USAFR. In 1980 he founded the 390th Memorial Museum Foundation. An Honorary member of the U.S. Air Force Academy Association of Graduates, Colonel Muller was buried at the Academy with full military honors in 1993.