Michael F. Mitchell and Martha A. Mitchell
Arizona Aviation Hall of Fame
Enshrined 2002

Martha Anne Wilkins and Michael Francis (Mike) Mitchell shared a passion for flying and a dream of owning an aviation business. It must have been ordained that their individual achievements would one day produce a loving partnership. By the time they married in 1952, Martha and Mike Mitchell owned the Sky Harbor Air Service in Phoenix, Arizona. Their company provided flight training, aircraft maintenance, air charter and air ambulance services.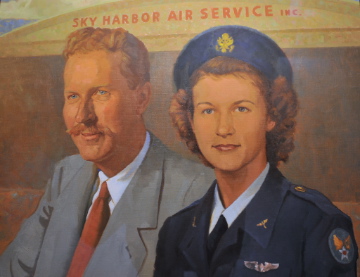 A remarkable pair who shared a love of flight and set new standards for aviation service
Learning to fly early in World War II, Martha qualified for flight duty in the WASPs (Women Air Force Service Pilots). While she was flying a wide range of military aircraft, including B-25, B-24 and B-17 bombers, Mike was directing an instrument training program for Southwest Airways, which trained thousands of Army Air Force pilots at four airfields in the Phoenix area — Sky Harbor, Falcon and Thunderbird I and II.
In 1946, Martha and Mike each bought a third interest in Sky Harbor Air Service*. Two years later Martha acquired the remaining third The enterprising couple operated the business until their retirement in 1985. Mike was also an FAA-designated flight examiner for such advanced ratings as instrument and air transport pilot. The company soon became widely known for the outstanding quality of its services and for its excellent customer relations.
After a long, productive career and more than 22,000 flying hours with a perfect safety record, Mike died peacefully in 1993. Today, the Mitchells' personal Beechcraft D-18 is permanently ensconced in the Smithsonian Institution's National Air and Space Museum. It is a fitting tribute to a remarkable pair who not only contributed so much to the growth of aviation in Arizona, but who epitomized what can be accomplished in America through hard work and determination.
Note:

Nearly 200 WASP's, including Martha A. Mitchell, were awarded the Congressional Gold Medal. It is the highest honor for civilians.
Past Honoree's Include:
• In 2000 the Navajo Code Talkers and in 2006 The Tuskegee Airman
• Later changed to "Mitchell Air Service"