Douglas T. Nelson
Arizona Aviation Hall of Fame
Enshrined 2004

From Military Combat to CIA
Major General Douglas Nelson, a resident of Page, Arizona since 1976, was born in 1921 in Astoria, Oregon. He graduated from high school in 1938 and enrolled in Oregon State College in 1940. As a member of the Oregon National Guard he was ordered to active duty that same year. In May 1941 he entered Army Air Corps flying school and graduated in March 1942 as a reserve 2Lt and rated Army pilot.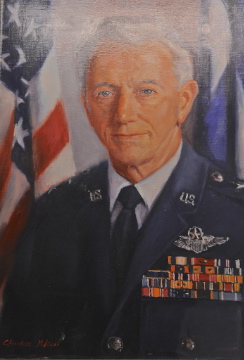 General Nelson has distinguished himself above others during his military aviation career that began in May 1941 and spanned over 30 years. After flight school he was assigned an instructor pilot, ferried P-39's to Alaska and then flew 590 combat hours in the China Burma Invasion. Upon returning to the states he was later assigned to Strategic Air Command. In 1960 he was assigned as project officer to head the CIA U-2 program.
In 1961 he became Director of Operations in support of the CIA program in development of the A-12, YF-12 flight test program. In 1964 General Nelson became Wing Commander of the 9th Strategic Reconnaissance Wing. In 1970 he was named the Force Program Director, B-1 Strategic Bomber.
Many of General Nelson's contributions came in assisting in the development of highly confidential high altitude reconnaissance programs during the Cold War; a period in our country's history when gathering information was critical to our national defense. General Nelson accumulated 14,000 pilot hours in 155 types of aircraft during his flying career.
---
Elgin Roy Newell
Arizona Aviation Hall of Fame
Enshrined 2007

Elgin Newell was born on September 10, 1906 in Balsa, California. He received his pilot's license in 1932 and went to work for Browne Flying Service in Sacramento, California. In the early 1940's he went to work for Southwest Airways as a flight instructor at Thunderbird Field near Phoenix, Arizona. Here he helped to train some of the 46,000 American, British and Chinese aviation cadets that passed through Arizona during World War II.
Between 1945 and 1951 he worked for Sky Harbor Air Service flying charter and air ambulance flights. In 1951 he went to work as the Director of Flying at Marana Air Base. In his last aviation job he was the chief pilot for the State of Arizona from 1962 to 1973. Elgin retired to his California ranch in 1973. He passed away in 1985.