Darrell A. Sawyer
Arizona Aviation Hall of Fame
Enshrined 2003

A licensed pilot at 17, Darrell Sawyer became one of Arizona's top aviation leaders.
Born in California in 1931, Darrell Sawyer was two weeks old when the family moved to Arizona, where he has resided ever since. He grew up in Gilbert and became enamored with flying at the age of five. In fact, he earned his private pilot's license at 17 while still in high school. It marked the beginning of a long and highly successful aviation career, in which he turned a $1,600 bank loan into a multi-million dollar enterprise.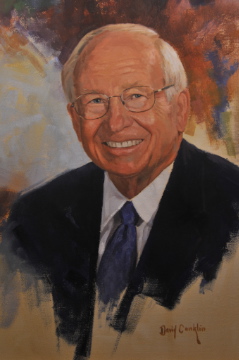 He qualified for his commercial and flight instructor ratings at Phoenix College and gained experience and airtime teaching his fellow students to fly. During the Korean War he served in the Air Force as an F-86 mechanic. Returning home, he completed his formal education at Arizona State University in 1957. He also worked as an instructor at ASU. Conducting flight training has always given Darrell his greatest personal satisfaction.
He gave flying lessons at Phoenix area airports until 1961 when he borrowed enough seed money to launch The Sawyer School of Aviation at Deer Valley Airport. His small company kept expanding, so he changed its name to Sawyer Aviation to better reflect a full-service operation, which now included aircraû sales, maintenance and charter flying. And with Good Samaritan Hospital, he founded Air-Evac, using a specially equipped Cessna 402.
In 1970 he moved his growing business to larger facilities at Sky Harbor Airport, and in 2000 sold it to Swift Aviation. By then his reputation for ethics, quality service and high standards of safety was known far and wide. But of all his accomplishments and community activity, Darrell Sawyer is most proud of having changed the lives and livelihoods ofthe more than 5,000 students pilots he trained who went on to fly airplanes the world over.
---
Carl G. Schneider
Arizona Aviation Hall of Fame
Enshrined 2009

Carl Schneider was born in Ralls, Texas in 1928. He attended the Texas Technological college before joining the Army Air Force in 1946. Carl first trained as a turret mechanic before becoming an Aviation Cadet. He graduated from P-51 pilot training at Williams Air Force Base, Arizona in 1948. General Schneider flew over 100 combat missions in Korea. In 1951 he returned to Arizona for the first of several tours at Luke Air Force Base. In 1964 he went to Vietnam as one of the first U.S. Air Force officers assigned to the Second Air Division. He helped establish a forward air control/air liaison officer program working and flying with the Republic of Vietnam Air Force.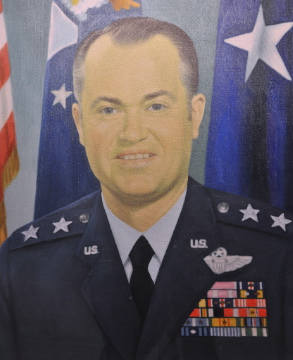 General Schneider received a Bachelor's Degree in business management from Arizona State University in 1964 and later a Master's Degree in international relations from George Washington University. He served as executive officer to the Assistant Secretary of the Air Force of financial management and commanded the 3550th Pilot Training Wing and the 314th Air Division in Korea. General Schneider retired from the Air Force in 1978 as the Chief of Staff for the Air Force Logistics Command.
---
Arvin Schultz
Arizona Aviation Hall of Fame
Enshrined 2008

Arvin "Arv" Schultz's association with aviation in Arizona began in the mid-1960's when he received his pilot's license and became a Flight Instructor with the Sawyer School of Aviation. In 1967 he began his career as an airline pilot with Apache Airlines. Over the next 30 years he flew with Bonanza Airlines, AirWest Airlines, Hughes AirWest Airlines and Republic Airlines. Arv retired from Northwest Airlines in 1994. 2 years earlier he began publishing Arizona Flyways Magazine to promote aviation in Arizona. In 2000 the magazine changed its name to America's Flyways and expanded its distribution to the entire United States but it continued to focus on the history and future of Arizona aviation. Arv continues to work as a spokesman for aviation in the state, not only through his magazine but also as a speaker for aviation and civic groups.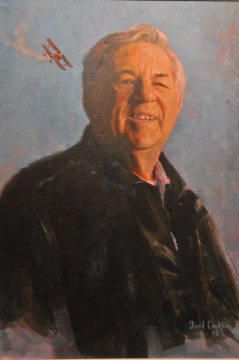 ---
Raymond Victor Schwanbeck
Arizona Aviation Hall of Fame
Enshrined 2001

Raymond Victor Schwanbeck was born May 16, 1912 in Humboldt, Arizona. After graduating ûom Ashfork High School, he attended and later graduated from Arizona State Teachers College.
He began his distinguished military career with the Arizona National Guard, serving from February 1930 to October 1932, reaching the grade of Infantry Sergeant. Enlisting in the Air Corps in 1934, his first assignment was at Longley Field, VA, as o pilot with tho 2nd Bomb Group. Ho laïor sorvoo with the 19th Bomb Group at March Field, California and in 1941 was sent to the Philippines.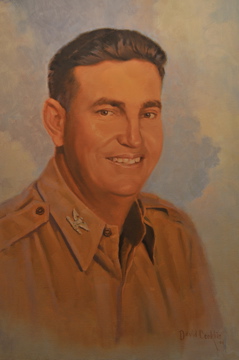 While the Japanese were bombing Pearl Harbor, they were also bombing the Philippines. During the attack Raymond was injured by bomb fragments, for which he received the Purple Heart. After recovery, he continued to fly, completing 15 combat missions and accumulating 25 combat hours.
Returning to the U.S. in 1942, he was assigned to the West Coast Training Command. In October of 1944, he served as Deputy Group Commander of the 463 Bomb Group and flew 7 combat missions, accumulating 70 combat hours. In December he became Group Commander of the Bomb Group, where he flew 14 combat missions accumulating 90 combat hours.
At the end of the War in 1945, Sohwanbeck was transferred back to the U.S. where he served as Deputy, then Commander, of Peterson Field, Colorado until he entered Air Command and Staff School. Upon completion he was transferred to Washington, D.C., where he served as Commander of Strategic Air Command Headquarters and then as Deputy Commander of the Flight Service. Raymond was then transferred to Tokyo, Japan and was Commander of the î503 Maintenance and Supply Group and later as Deputy Commander and Assistant Chief of Staff of the 1503 Air Transport Wing.
Schwanbeck was a professor of Air Science at Fordham University, NYC and retired as a Colonel in 1961 from Tinker AFB, Oklahoma Where he served as the Director of Flight Facilities. With over 10,000 flying hours, Colonel Schwanbeck received numerous awards and honors. Considered to be one of the finest B-17 pilots in the Army Air Corps, Raymond V. Schwanbeck served his Country with ferocious vigor and bravery.
---
Francis R. "Dick" Scobee
Arizona Aviation Hall of Fame
Enshrined 1998

Francis R. "Dick" Scobee was born in Cle Elum, Washington. He graduated from the University of Arizona with a BS in Aerospace Engineering and a commission as 2nd Lt in the USAF in 1965.
Dick completed Air Force Flight training and served a combat tour as pilot in Vietnam in 1966. In 1972 he graduated from the USAF Aerospace Research Pilot School at Edwards AFB, California and worked on the test programs for the Boeing 747, X-24B, the (TACT) F-111 and the C-5A.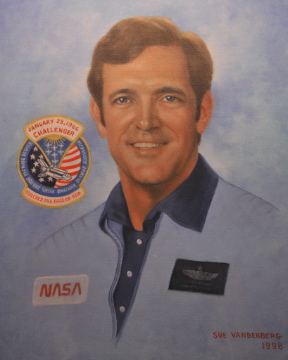 Dick was selected as an Astronaut candidate and completed training in 1979 and was rated as Astronaut and as Instructor Pilot on the NASA/Boeing 747 Shuttle Carrier Plane. In April 1984 he flew as pilot on shuttle Mission STS-41-C. On Jan. 28, 1986, Dick was Challenger Spacecraft Commander on Mission STS-51-L launched from the Kennedy Space Center, Florida. One minute 13 seconds after launch, Challenger exploded killing all seven souls on board.
NOTE:

Dick was awarded the Congressional Space Medal of Honor as were all the members of the crew of Challenger after the disaster in January 1986.
---
William Rees Sears
Arizona Aviation Hall of Fame
Enshrined 1996

William Rees Sears was born in Minneapolis, Minnesota. Pilot, engineer, educator, indeed, a giant in the field of aerodynamics and aircraft design, he perhaps best known as a principal designer of the Northrop "Flying Wing," precursor of the USAF B-2 "Stealth" bomber. He pioneered the early development of "inherently unstable" aircraft. Today's advanced high performance aircraft embody this design concept and achieve controlled flight only with the aid of an integrated system of sophisticated on-board computers. He studied aeronautical engineering under the legendary Theodore von Karmen at the California Technical Institute, earning his degree in 1937.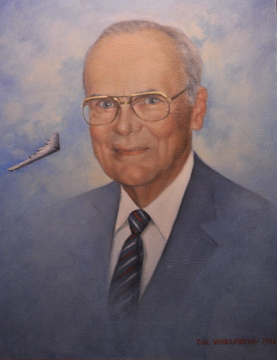 Joining Northrop as a consultant, he became the company's chief of aerodynamics and flight test four years later. His achievements in academe are equally noteworthy. At Cornell University (19461974) he founded the Center for Applied Mathematics and the Graduate School of Engineering. From 1974 to 1990 he was professor of Aeronautical Engineering at the University of Arizona, where he is now professor emeritus. In 1995 he received one of his professions highest honors, the National Academy of Science Award in Aeronautical Engineering, awarded but once every five years.
---
Clarence E. "Dutch" & Joan Fay Shankle
Arizona Aviation Hall of Fame
Enshrined 1999

Clarence E. "Dutch" Shankle was trained as a US Army pilot during the closing days of WWI. After the war ended, "Dutch" became the flying instructor for the Aviation Unit, 26th Division, US Army based in Boston, MA. "Dutch" and Joan Fay were married in Boston. Soon after the wedding, "Dutch" began giving Joan Fay flying lessons.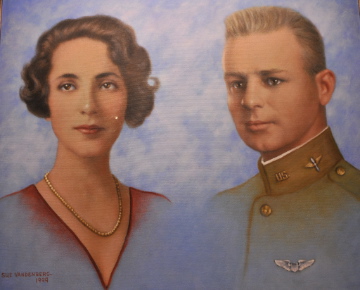 In 1929, Joan Fay became the first woman in Massachusetts to earn a private pilot's license. In 1930, Joan Fay became the first woman to be issued a limited commercial pilot's license. In 1931, Captain "Dutch" Shankle resigned his commission and the Shankles purchased the 500-acre Pajorito ranch north of Tubac, Arizona. Their first addition to the ranch was a runway and hanger. They flew a "Stearman" J-5 and a Lockheed Sirius from their ranch runway. From 1931 thru 1941, both Shankles were prominent in national aviation events. In 1931, Joan Fay was the first woman to fly from Boston to Miami. She was also the first woman to fly solo from the West coast to the East coast. She was the only woman to compete in the National Air Race. She competed in the 2400-mile Women's Speed Classic, finishing third in the field of 16.
From 1929 to 1938, Joan Fay logged over 1300 flying hours. She earned her instrument rating in 1937. In 1933, both Shankles entered the Air Race at the First Annual Tucson Air Show. "Dutch" took first place and Joan Fay third in the "Pathe Movie News" filmed race. Captain Clarence E. "Dutch" Shankle was recalled to active duty during WWII. He served his country well and retired as a Colonel.
---
Ruby Wine Sheldon
Arizona Aviation Hall of Fame
Enshrined 2009

Ruby Wine Sheldon was born on October 20, 1917 in Meridian, Mississippi. She became a photographer in Lawrenceburg, Tennessee before moving to Phoenix at the age of 32. In 1964 a challenge from her coworkers prompted her to learn to fly and she received her private pilot's license soon after. In 1966 she went to work for Sun Valley Air Service at Sky Harbor Airport in Phoenix as an instructor and charter pilot.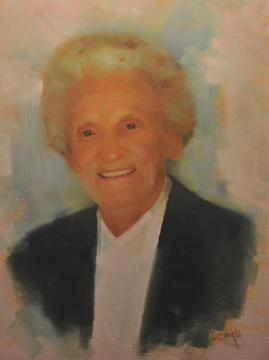 Her aviation career expanded greatly in 1969 when she joined the U.S. Geologic Survey, Water Resources Division. Her duties included flying camera and radar equipped aircraft performing surveys from Florida to Alaska. She flew aircraft ranging from small single-engine Cessna 180s to the Douglas B-23 and DC-3. Ruby's flight time included many hours of flying UH-1 helicopters from a floating ice research station 400 miles off the Northern coast of Alaska, as well as flying former military aircraft such as the OV-1 Mohawk and T-33 Shooting Star. In 1974 Ruby became the first woman in the United States to be rated as a Helicopter Instrument Flight Instructor.
Since her retirement from the U.S.G.S. she has returned to live in Arizona and has remained active in aviation, participating regularly in the Powder Puff Derby and the Women's Air Race Classic trans-continental races. She won the race twice—once in 1989 and again in 1995, and she placed in the top three a total of seven times. During her flying career Ruby has accumulated more than 15,000 flight hours.
---
Lowell H. Smith
Arizona Aviation Hall of Fame
Enshrined 1994

Lowell Smith was born in Santa Barbara, California. Educated as a mechanical engineer, he learned to fly in Mexico in 1915 while maintaining Pancho Villa's small fleet of airplanes. In 1917 he joined the U.S. Army Air Service, initially serving as an instructor. Noted as commander of history's first flight around-the-world in 1924, he played a key role in early military aviation development. In the post-World War I years he set 16 world records for speed and endurance in Army aircraft.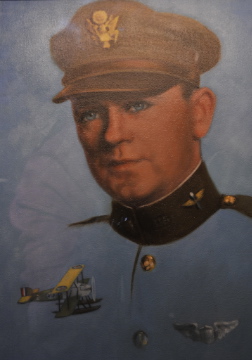 He also pioneered basic techniques for fighting forest fires, refueling planes in the air and deploying airborne troops — techniques still used today. He charted some of the earliest airway routes and in the mid-1930s flew tests on the original Northrop Flying Wing. In the early 1940s he commanded Davis-Monthan AFB, then a World War II bomber training base. A career Air Force officer, his awards included the Helen Culver Gold Medal, Distinguished Flying Cross, French Legion of Honor and Mackay Trophy (twice). Colonel Smith died in a horseback accident in 1945.
---
Peter Smith
Arizona Aviation Hall of Fame
Enshrined 2011

Peter Smith was born December 2, 1947 in New York and attended the University of California Berkley where he received a Bachelor's degree in Physics in 1969. He received a Master's and Doctoral degrees from the University of Arizona in 1977 and 2009. Dr. Smith began working as a research scientist at the Lunar and Planetary lab at the University of Arizona in 1978. There he has worked on projects providing cameras and optical equipment for NASA space probes for the last 30 years. These projects include the CASSINI probe, Mars Polar Lander, Mars Pathfinder, Beagle 2, and the Japanese MUSES-Cnear-earth asteroid mission. In 2003 the Phoenix mission to Mars received NASA approval with Smith as the principal investigator.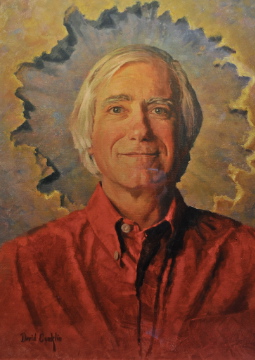 The Phoenix mission was the first Mars exploratory mission to be led and controlled from a public university. The probe was launched on August 4, 2007 and spent the next nine months en route to Mars, finally landing on the planet on May 25, 2008. The lander was controlled by Smith and his team from a mission control center on the campus of the University of Arizona in Tucson. In July 2008, NASA announced that samples tested by the probe had for the first time proven the presence of water ice on Mars. Smith's name will be forever linked to the confirmation that there is water on Mars.
---
Richard G. Snyder
Arizona Aviation Hall of Fame
Enshrined 1998

A decorated military pilot, FAA research pilot, transcontinental racer, professor and research scientist, Dr. Richard Snyder has over 50 years experience in over 70 models of aircraft.
Surviving a jet fighter crash, he subsequently combined his aviation and biomedical background to improve flight safety, occupant crash protection, and the knowledge of hu m an impact tolerances.
He has authored some 400 scientific publications, reports, and presentations. Dr. Snyder was inducted into the Health and Safety Hall of Fame International in 1993, and received the John Stapp Award in Aerospace Biomechanics in 1994.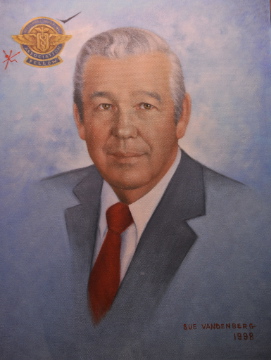 A longtime Tucson resident, Dr. Snyder received his B.A., M.A., and Ph.D. from the University of Arizona and is a Fellow in Aerospace Medicine.
Dr. Snyder is a member of The Order of Daedalians.
Note:
Dr. Snyder visited the Hall of Fame on 25 Mar 2012
---
R. Dixon Speas
Arizona Aviation Hall of Fame
Enshrined 1995

R. Dixon Speas was born in Davie County, North Carolina. Known for his dedication to improving the safety and efficiency of public and private air transportation, his future career was foreshadowed in the 1930s when he won the prestigious William E. Boeing thesis Contest.
Following graduation from the Massachusetts Institute of Technology, he flew for American Airlines and served as President C.R. Smith's assistant. During World War II, while on loan from A merican, he performed special assignments for the U.S. Army Air Force.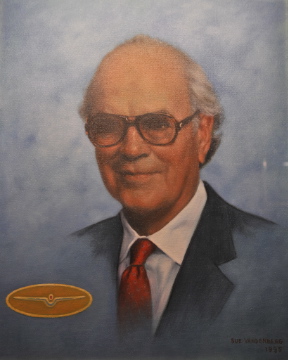 In 1951 he founded the first of several consulting firms; the most recent, PRC Aviation in Tucson. Over the years he has handled projects for most of the world's major airlines, for much of corporate aviation and for many international airports.
Also, he pioneered development of new operating procedures, including intercontinental computerized flight planning, that greatly increased the utility and profitability of commercial air carrier and business aircraft. There's hardly an airline or corporate aircraft operator flying anywhere in the world today who doesn't use some innovative idea or method that can be credited directly to R. Dixon Speas.
---
Cheryl A. Stearns
Arizona Aviation Hall of Fame
Enshrined 2007

Cheryl A. Stearns was born July 14, 1955 in Albuquerque, New Mexico. Her family moved to Scottsdale, Arizona 2 years later. An interest in aviation led her to skydiving and her pilot's license in her teen years. Cheryl made her first parachute jump at the age of 17. In 1975, after graduating from Scottsdale Community College, she moved to North Carolina to continue her competition parachute training. Her skills grew quickly and in 1977 she won her first U.S. National Championship. That same year she joined the United States Army and became the first female member of the Army's "Golden Knights" parachute jump team.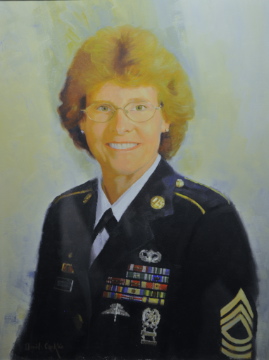 In 1979 she became the first woman to participate in an international military parachuting competition. Not only did Cheryl compete, but she won the accuracy competition. She continues to participate in and win parachuting competitions, and has won 65 national and world women's competitions. Additionally, she has held the most parachute jumps in a 24-hour period by a woman; 352, or on average 1 every 4 minutes. In addition to her parachuting career, Cheryl is a pilot for U.S. Airways. She flies as a First Officer in the Boeing 757 and 767. Cheryl has received numerous awards and honors during her aviation career. These include: Skydiver of the Year for 1995, Citizen of the Year, 1995 from the Raeford, NC Kiwanis Club, and the highest award in aerosports, the Diplome Leonardo da Vinci in 1990. The U.S. Army has awarded her the Meritorious Service Medal 4 times, the Army Commendation Medal 6 times and the Army Achievement Medal 2 times.
---
George I. Steinke
Arizona Aviation Hall of Fame
Enshrined 1991

George Steinke was born in Plain View, Minnesota. He holds the oldest pilot's license in Arizona (#1582) issued in February 1928 by the Department of Commerce.
A prominent Mohave County aviator and entrepreneur he flew his own airplane after only an hour of dual instruction. He later barnstormed the Midwest, operated flying services and worked as an assembler on the first Douglas DC-2 aircraft. Steinke settled in Kingman in the 1930s and became involved in mining as well as flying.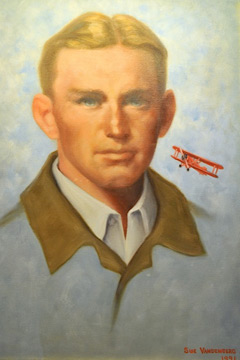 He managed Kingman Airport for many years and was in the forefront of local efforts to create a public awareness of aviation's economic benefits. In the late 1940s he operated Steinke Airlines that was a daily commuter service between Kingman and Phoenix. He also pioneered excursion flights into the Grand Canyon, utilizing a landing strip he built on the canyon floor.
---
Clifford M. Sterrenberg
Arizona Aviation Hall of Fame
Enshrined 2010

Clifford M. Sterrenberg was born in Charlotte, Illinois on May 25, 1919. He learned to fly in 1937 and received his Commercial and Instrument pilot ratings at the age of 19 through the famous Parks Air College.
In 1940 he began work as an Army flight instructor through the Civilian Pilot Training Program. He worked as an instructor throughout the war in Alabama and South Carolina, spending more than 3,000 hours in the air teaching future Army pilots to fly in the PT-17, PT-13, and PT-19.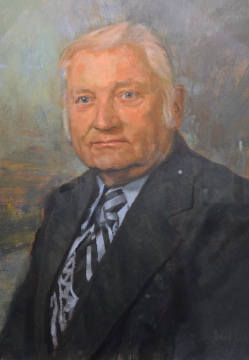 Even with the end of World War II Clifford continued to work as a flight instructor. In 1965 he became the Chief Flight Instructor and aerobatic flight instructor with Rhodell Aviation in Phoenix. Over the next few years Rhodell became the foremost aerobatics school in the country due in great part to the programs put in place by Clifford. He is one of the few pilots to have spent their entire aviation career as an instructor. His students included both new and experienced pilots several of whom went on to become aerobatic champions. By the end of his career in the late 1980s Clifford had over 10,000 hours of flight time as an instructor. Clifford Sterrenberg lived in Arizona until his death in 1990.
---
Hugh W. Stewart
Arizona Aviation Hall of Fame
Enshrined 2005

The recipient of the Distinguished Flying Cross, the Air Medal with 10-Oak Leaf Clusters and the Air Force Commendation medal, Lt. Col. Hugh Stewart served in World War II by flying 55-combat missions with nearly 200 hours of combat flying time. He became an instructor pilot after World War II and he taught Chinese students pilots how to fly B-25's at Douglas Army Air Field, in Douglas, Arizona. Lt. Col. Stewart served as Judge Advocate General and Pilot at Perrin Air Force Base and then served in the of Legislative Liaison Office for the United States Air Force to the United States Senate and White House.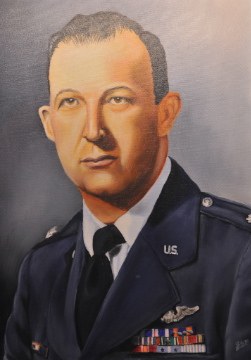 Lt. Col. Stewart rounded out his Air Force career as Inspector General, USAF Research & Development before accepting his final post of Assistant Secretary of the staff, SHAPE Headquarters, NATO, Paris France. Lt. Col. Stewart was one of the Founders of the Pima Air & Space Museum.