Darrell A. Sawyer
Arizona Aviation Hall of Fame
Enshrined 2003

A licensed pilot at 17, Darrell Sawyer became one of Arizona's top aviation leaders.
Born in California in 1931, Darrell Sawyer was two weeks old when the family moved to Arizona, where he has resided ever since. He grew up in Gilbert and became enamored with flying at the age of five. In fact, he earned his private pilot's license at 17 while still in high school. It marked the beginning of a long and highly successful aviation career, in which he turned a $1,600 bank loan into a multi-million dollar enterprise.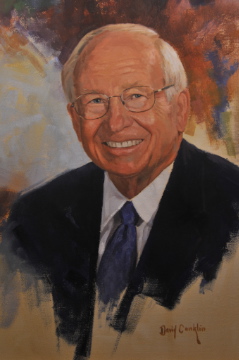 He qualified for his commercial and flight instructor ratings at Phoenix College and gained experience and airtime teaching his fellow students to fly. During the Korean War he served in the Air Force as an F-86 mechanic. Returning home, he completed his formal education at Arizona State University in 1957. He also worked as an instructor at ASU. Conducting flight training has always given Darrell his greatest personal satisfaction.
He gave flying lessons at Phoenix area airports until 1961 when he borrowed enough seed money to launch The Sawyer School of Aviation at Deer Valley Airport. His small company kept expanding, so he changed its name to Sawyer Aviation to better reflect a full-service operation, which now included aircraû sales, maintenance and charter flying. And with Good Samaritan Hospital, he founded Air-Evac, using a specially equipped Cessna 402.
In 1970 he moved his growing business to larger facilities at Sky Harbor Airport, and in 2000 sold it to Swift Aviation. By then his reputation for ethics, quality service and high standards of safety was known far and wide. But of all his accomplishments and community activity, Darrell Sawyer is most proud of having changed the lives and livelihoods ofthe more than 5,000 students pilots he trained who went on to fly airplanes the world over.