Francis R. "Dick" Scobee
Arizona Aviation Hall of Fame
Enshrined 1998

Francis R. "Dick" Scobee was born in Cle Elum, Washington. He graduated from the University of Arizona with a BS in Aerospace Engineering and a commission as 2nd Lt in the USAF in 1965.
Dick completed Air Force Flight training and served a combat tour as pilot in Vietnam in 1966. In 1972 he graduated from the USAF Aerospace Research Pilot School at Edwards AFB, California and worked on the test programs for the Boeing 747, X-24B, the (TACT) F-111 and the C-5A.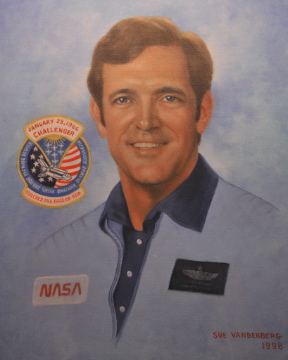 Dick was selected as an Astronaut candidate and completed training in 1979 and was rated as Astronaut and as Instructor Pilot on the NASA/Boeing 747 Shuttle Carrier Plane. In April 1984 he flew as pilot on shuttle Mission STS-41-C. On Jan. 28, 1986, Dick was Challenger Spacecraft Commander on Mission STS-51-L launched from the Kennedy Space Center, Florida. One minute 13 seconds after launch, Challenger exploded killing all seven souls on board.
NOTE:

Dick was awarded the Congressional Space Medal of Honor as were all the members of the crew of Challenger after the disaster in January 1986.