George I. Steinke
Arizona Aviation Hall of Fame
Enshrined 1991

George Steinke was born in Plain View, Minnesota. He holds the oldest pilot's license in Arizona (#1582) issued in February 1928 by the Department of Commerce.
A prominent Mohave County aviator and entrepreneur he flew his own airplane after only an hour of dual instruction. He later barnstormed the Midwest, operated flying services and worked as an assembler on the first Douglas DC-2 aircraft. Steinke settled in Kingman in the 1930s and became involved in mining as well as flying.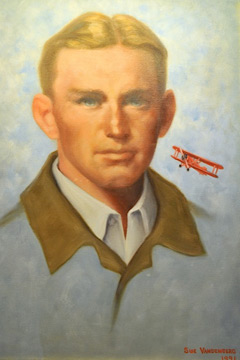 He managed Kingman Airport for many years and was in the forefront of local efforts to create a public awareness of aviation's economic benefits. In the late 1940s he operated Steinke Airlines that was a daily commuter service between Kingman and Phoenix. He also pioneered excursion flights into the Grand Canyon, utilizing a landing strip he built on the canyon floor.