Raymond Victor Schwanbeck
Arizona Aviation Hall of Fame
Enshrined 2001

Raymond Victor Schwanbeck was born May 16, 1912 in Humboldt, Arizona. After graduating ûom Ashfork High School, he attended and later graduated from Arizona State Teachers College.
He began his distinguished military career with the Arizona National Guard, serving from February 1930 to October 1932, reaching the grade of Infantry Sergeant. Enlisting in the Air Corps in 1934, his first assignment was at Longley Field, VA, as o pilot with tho 2nd Bomb Group. Ho laïor sorvoo with the 19th Bomb Group at March Field, California and in 1941 was sent to the Philippines.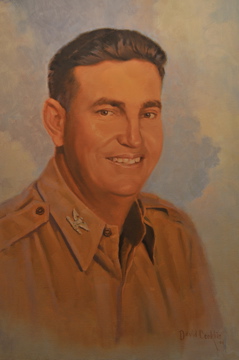 While the Japanese were bombing Pearl Harbor, they were also bombing the Philippines. During the attack Raymond was injured by bomb fragments, for which he received the Purple Heart. After recovery, he continued to fly, completing 15 combat missions and accumulating 25 combat hours.
Returning to the U.S. in 1942, he was assigned to the West Coast Training Command. In October of 1944, he served as Deputy Group Commander of the 463 Bomb Group and flew 7 combat missions, accumulating 70 combat hours. In December he became Group Commander of the Bomb Group, where he flew 14 combat missions accumulating 90 combat hours.
At the end of the War in 1945, Sohwanbeck was transferred back to the U.S. where he served as Deputy, then Commander, of Peterson Field, Colorado until he entered Air Command and Staff School. Upon completion he was transferred to Washington, D.C., where he served as Commander of Strategic Air Command Headquarters and then as Deputy Commander of the Flight Service. Raymond was then transferred to Tokyo, Japan and was Commander of the î503 Maintenance and Supply Group and later as Deputy Commander and Assistant Chief of Staff of the 1503 Air Transport Wing.
Schwanbeck was a professor of Air Science at Fordham University, NYC and retired as a Colonel in 1961 from Tinker AFB, Oklahoma Where he served as the Director of Flight Facilities. With over 10,000 flying hours, Colonel Schwanbeck received numerous awards and honors. Considered to be one of the finest B-17 pilots in the Army Air Corps, Raymond V. Schwanbeck served his Country with ferocious vigor and bravery.