Arthur Van Haren, Jr.
Arizona Aviation Hall of Fame
Enshrined 2012

Arthur Van Haren, Jr. was born into a pioneer Arizona family of Mexican American descent in Superior, Arizona on April 9, 1920. He attended the University of Arizona where he played both football and baseball. In June 1941, during his third year of college, he entered the United States Navy for training as a Naval Aviator.
After graduating from pilot training in early 1942 he spent a year as a flight instructor at Jacksonville before being assigned to Fighter Squadron 2 for combat duty in the Pacific. This squadron flew combat missions off the aircraft carrier USS Enterprise beginning in November 1943.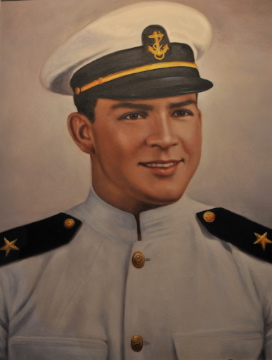 In March 1944 Arthur Van Haren, Jr. and VF-2 transferred to the USS Hornet and participated in the invasion of the Mariana Islands, Guam, and Iwo Jima. During this time he was credited with shooting down nine Japanese aircraft making him one of the twenty-seven pilots of VF-2 who became aces during this time period. No other World War II fighter squadron (Army, Air Force, or Navy) achieved these results. He shot down more enemy aircraft than any other Arizonan serving in the U.S. Navy during World War II, earning the Distinguished Flying Cross and Air Medal with one Gold Star each.
After the war Arthur Van Haren, Jr. returned to the University of Arizona to complete his undergraduate work and also earned his Juris Doctorate from the University of Arizona in 1948. For the next forty years he worked as a defense attorney, Maricopa County attorney, and as a Phoenix Municipal Judge. He retired to Dewey, Arizona in 1984. Arthur Van Haren, Jr. passed away in 1992 at the age of seventy-two.
---
George Varga Jr.
Arizona Aviation Hall of Fame
Enshrined 1992

George Varga, Jr. was born and raised in South Bend, Indiana. At an early age, aviation became his guiding light. At age 16 he was the youngest licensed pilot and parachute jumper in North America.
He formed an aero club in high school, flew and jumped at air shows, operated a charter service and in 1937, was elected President of the South Bend Pilot's Club. In 1940 he volunteered for service with the Royal Canadian Air Force and eventually transferred to the U.S. Army Air Forces flying B-l 7's and B-24's in the China­ Burma-India Theater.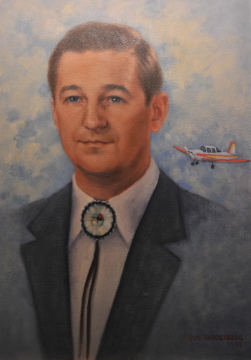 Upon completion of his tour in bombers, George flew for the Air Transport Command. Back in the U.S. he became a well-known speaker at War Bond rallies and war plants. His war service was recognized with many decorations including the Distinguished Flying Cross. After the war, George became Sales Manager for Aero Publishers, Inc. Later, he sold new and used aircraft and started a successful aircraft parts business which led to the creation of Varga Enterprises. George moved his family and business to Phoenix in 1962 and then to the Chandler Airport where he built what became the Varga Kachina 2150A aircraft. George Varga was truly one of Arizona's greatest ambassadors of flying.
---
Ralph G. Vaughan
Arizona Aviation Hall of Fame
Enshrined 1991

Ralph Vaughan was born in Merkel, Texas and spent much of his boyhood in Mexico and Southern California. He enlisted in the Signal Corps in 1917 and won his wings in France where he was an instructor. After the war he established a flying school at Ontario, California. He pioneered photography from the air and flew in early motion pictures, in one of which he intentionally spun an aircraft into the ground. Moving to Globe, Arizona in 1929, Vaughan set up and operated Apache Airlines, Arizona's first intra-state carrier service.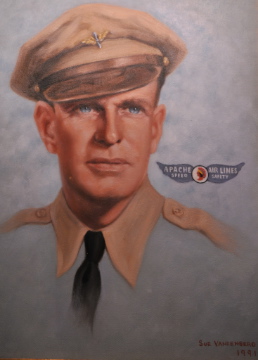 During the depression he made a living barnstorming but was recalled to active duty in 1940. He flew production acceptance tests on Stearman trainers and eventually Superfortresses. Vaughan retired at Davis-Monthan AFB in 1958 as a Colonel. He amassed the astounding total of over 15,400 flying hours in his lifetime.
---
James Vercellino
Arizona Aviation Hall of Fame
Enshrined 2006

Serving in the Army Air Corp during WWII, Vercellino loved aviation and pursued his goals with passion and determination. After his service with the Army, Vercellino became a partner in Maddux Flying. In 1948 Vercellino was appointed by the late Governor Dan Garvey as one of the original Board members of the Arizona Aviation Authority. In 1957 he was appointed Director, where he served with distinction under six Governors for nineteen years.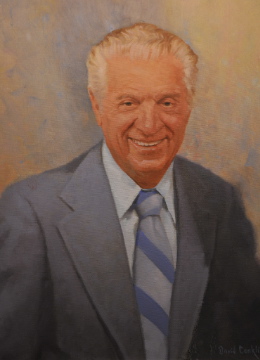 Vercellino was dedicated and hard working during his tenure. Vercellino was involved in the planning, development, maintenance, and improvement of more than 100 airports in the State and, with the cooperation and support of Senator Barry Goldwater, built the Grand Canyon National Park Airport. Vercellino was instrumental in planning for Arizona's future in the national transportation system and fostering safety of flight in the State.