Arthur Van Haren, Jr.
Arizona Aviation Hall of Fame
Enshrined 2012

Arthur Van Haren, Jr. was born into a pioneer Arizona family of Mexican American descent in Superior, Arizona on April 9, 1920. He attended the University of Arizona where he played both football and baseball. In June 1941, during his third year of college, he entered the United States Navy for training as a Naval Aviator.
After graduating from pilot training in early 1942 he spent a year as a flight instructor at Jacksonville before being assigned to Fighter Squadron 2 for combat duty in the Pacific. This squadron flew combat missions off the aircraft carrier USS Enterprise beginning in November 1943.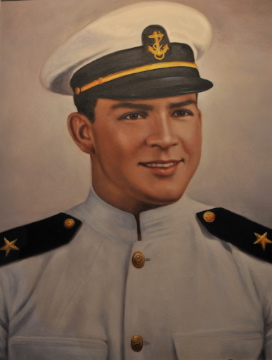 In March 1944 Arthur Van Haren, Jr. and VF-2 transferred to the USS Hornet and participated in the invasion of the Mariana Islands, Guam, and Iwo Jima. During this time he was credited with shooting down nine Japanese aircraft making him one of the twenty-seven pilots of VF-2 who became aces during this time period. No other World War II fighter squadron (Army, Air Force, or Navy) achieved these results. He shot down more enemy aircraft than any other Arizonan serving in the U.S. Navy during World War II, earning the Distinguished Flying Cross and Air Medal with one Gold Star each.
After the war Arthur Van Haren, Jr. returned to the University of Arizona to complete his undergraduate work and also earned his Juris Doctorate from the University of Arizona in 1948. For the next forty years he worked as a defense attorney, Maricopa County attorney, and as a Phoenix Municipal Judge. He retired to Dewey, Arizona in 1984. Arthur Van Haren, Jr. passed away in 1992 at the age of seventy-two.