George Varga Jr.
Arizona Aviation Hall of Fame
Enshrined 1992

George Varga, Jr. was born and raised in South Bend, Indiana. At an early age, aviation became his guiding light. At age 16 he was the youngest licensed pilot and parachute jumper in North America.
He formed an aero club in high school, flew and jumped at air shows, operated a charter service and in 1937, was elected President of the South Bend Pilot's Club. In 1940 he volunteered for service with the Royal Canadian Air Force and eventually transferred to the U.S. Army Air Forces flying B-l 7's and B-24's in the China­ Burma-India Theater.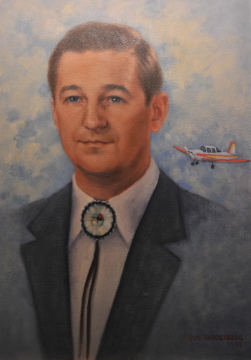 Upon completion of his tour in bombers, George flew for the Air Transport Command. Back in the U.S. he became a well-known speaker at War Bond rallies and war plants. His war service was recognized with many decorations including the Distinguished Flying Cross. After the war, George became Sales Manager for Aero Publishers, Inc. Later, he sold new and used aircraft and started a successful aircraft parts business which led to the creation of Varga Enterprises. George moved his family and business to Phoenix in 1962 and then to the Chandler Airport where he built what became the Varga Kachina 2150A aircraft. George Varga was truly one of Arizona's greatest ambassadors of flying.