Patty R. Wagstaff
Arizona Aviation Hall of Fame
Enshrined 1991

Aerobatics pilot Patty Wagstaff was born in St. Louis, Missouri September 11, 1951. She was raised in Japan where her father was a Japan Airlines 747 captain. Patty learned to fly in Alaska where she had moved in 1978. By 1985, she was skilled enough to qualify as a member of the U.S. Aerobatics Team. Since establishing her home in Tucson, Arizona in 1985, she has based her aerobatics operations at nearby Avra Valley Airport. She has flown airshows and competitions throughout the United States, Canada, South America, England, Switzerland, and France.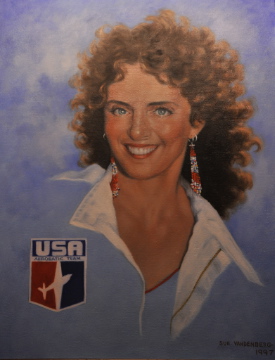 She has trained with the Russian Aerobatic Team in the Soviet Union. Patty served five times as a member of the U.S. Aerobatics Team in the period 1985 – 1994. In 1991, 1992 and 1993 Patty was top U.S. Medal Winner in competition at the World Aerobatics Championships. Her exciting low-level airshow performances reflect her competition background and emphasize the complex precision and excitement of competition aerobatics flying. Patty was recognized for her contributions to aviation by the Experimental Aviation Association in 1993 and the National Aeronautic Association in 1994.
---
Billy Walker
Arizona Aviation Hall of Fame
Enshrined 2011

Billy Walker was born September 30, 1941 in Cheyenne, Wyoming. He attended Arizona State University and received a degree in Aeronautical Engineering Technology. Billy continued a family tradition of involvement in aviation receiving his private pilot's license at the age of 18 and getting his first job as a pilot while still in college. He went to work for Frontier Airlines in 1967 and remained with the airline until its demise in 1986. In 1971 and 1972 he took a leave from Frontier to fly transport aircraft in Cambodia.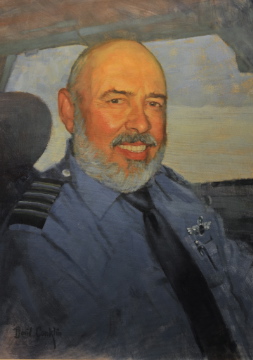 After Frontier Airlines shut down, Billy went to work flying for America West Airlines from 1988 to 1999. He then joined JetBlue and flew for them until his mandatory retirement in 2001. Afterwards, he worked for the airline as a test pilot until 2006. Billy continues to fly his own aircraft, participating in formation flights in his Stearman PT-17 at air shows and other events around Arizona. He is a tireless promoter and an excellent ambassador for aviation in Arizona.
---
Robert W. Waltz
Arizona Aviation Hall of Fame
Enshrined 2003

From military combat to space defense, General Waltz left a lasting mark.
Born in 1920 in Akron, Ohio, Robert W. Waltz enlisted in the Army Air Force immediately after Pearl Harbor. He won his wings in December 1942 and soon joined the 390tl Bombardment Group, flying B-l7s. From a base in England, he flew 30 grueling combat missions that entitled him leave in the U.S. He volunteered to return to combat and flew I O more sorties. Of the 35 crews in the original Group, only 15 completed their initial tours.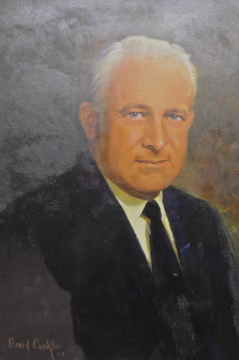 His leadership qualities were recognized early and he quickly assumed greater responsibilities. A command pilot for the 390th, Bob became its air executive officer with the rank of lieutenant colonel at the age of 24. He remained with the Group until it was deactivated at the end of the war. His many awards for gallantry in action included the Distinguished Flying Cross, Air Medal, Legion of Merit, Commendation Medals and French Croix de Guerre.
His postwar assignments included duty in the Pentagon, Europe and Ent AFB, Colorado, where he commanded the 9th Aerospace Defense Division, the first Air Force operational unit in space. Both the Ballistic Missile Early Warning and Spacetrack Systems were under his command. At the time of his retirement in 1969 as a brigadier general, he was commanding the USAF Tactical Air Reconnaissance Center at Shaw AFB, South Carolina.
His expertise in electronics led to a key research position at Goodyear Aerospace and residence in Phoenix, Arizona. Later he had an important role in building the 39Qth Memorial Museum, now on the grounds of the Pima Air and Space Museum. Today this unique shrine honors the heroic men of the 390th. It is also a living tribute to those few veterans of the group whose perseverance, commitment and dedication made it happen.
General Waltz died in 1995.
---
Hewitt T. Wheless
Arizona Aviation Hall of Fame
Enshrined 2008

Hewitt Wheless was born in Menard, Texas in 1913. He attended the University of Texas as an Army ROTC student and received his degree in Civil Engineering in 1936 as well as a commission as a Second Lieutenant in the Infantry. In 1939 he completed training as a pilot and joined the 38th Reconnaissance Squadron at March Field, California. In October of 1941 he was transferred to the 19th Bombardment Squadron to fly B-17 Flying Fortresses and went with them to the Philippine Islands. He was based there when war broke out with Japan. He participated in the desperate defense of the Philippines and his heroic actions in saving the lives of his crew earned him national attention. He was mentioned in a speech by President Roosevelt and a movie "Beyond the Line of Duty" was made about his exploits.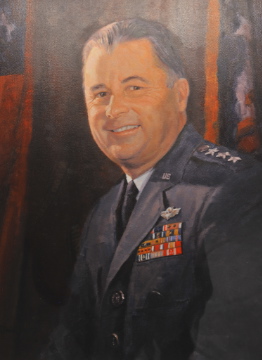 Hewitt continued his military service to the end of the war and beyond. He retired from the Air Force in 1968 with the rank of Lieutenant General.
After his retirement he moved to Tubac, Arizona and joined the Board of Directors of Gates Learjet. He was instrumental in bringing more of the company's operations to Tucson. He served on the Board until 1980. General Wheless passed away in 1986 and was buried in Arlington National Cemetery.
---
Jack Womack
Arizona Aviation Hall of Fame
Enshrined 2000

Jack Womack started his aviation career in 1942 by enlisting as an aviation cadet in the U .S. Army Air Corps flying Stearmans, BT-13s and 15s and finally multi-engine aircraft.
He was commissioned a 2″ Lieutenant at Roswell and went on to Davis Monthan Field in Tucson, Arizona for B-24 training. He and his crew flew the B-24 to Italy flying 51 bombing missions over Germany between 1944 and 1945. He was awarded the Air Medal with four Oak Leaf Clusters, a Presidential Citation and other citations.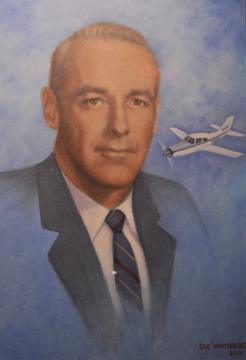 After retiring from active duty in 1946 he remained in the Air Force Reserve at Long Beach, California as an instructor pilot in the 4591h Bomb Group. He worked at both Douglas Aircraft in El Segundo, California and Aviation Maintenance Corp.at Van Nuys, California prior to joining Air Research Aviation Service Co., a subsidiary of the Garrett Corporation, based at Los Angeles Airport as a field and service mechanic. H is Reserve Group was activated in 1949 to engage in the Korean War. As Squadron Flight Commander, Jack led his squadron of nine Douglas B-26s across the Pacific to Japan with stops at Honolulu, Johnson Island, Kwajelein and Guam. After 25 combat missions out of the Air Force Base in Fukuoka, Japan, he returned to his job at Air Research and was promoted to Flight Operations Manager and Chief Pilot for the Garrett Corp. (1951).
At Garrett, Jack set up and managed one of the first Corporate Flight Operations for company transportation flying DC-3s and Convairs. He also flew test flights on the company's new products and helped develop and test the first gas turbine installation on a Convair 240 that could pressurize and furnish 800 kWh for the electrical systems. In 1968 while at Garrett in Phoenix, Jack flew the Garret-powered Comanche 400 to 42,500 ft. MSL setting a National Aeronautical Association world altitude record. He conducted first flight tests for turbo-props on Convair 440s. He helped with the development of and test flew all new Garrett engines that now power a large portion of corporate jets and military airplanes throughout the world . In addition Jack was Cliff Garrett's (president and founder of the Garrett Corporation) personal pilot and friend .
Jack now flies his Cessna 210, based at Falcon Field in Mesa, Arizona. His wife Virginia, a licensed pilot, is his co-pilot. Jack holds an "Airline Transport Pilot" rating and has amassed over 19,300 hours in the air during his career in the Air Force and 35 years with the Garrett Corporation. He has flown with such well known pilots in aviation history as Benny Howard, Mal Olsen, Eddie Rickenbaker, General Jimmy Doolittle, Dwayne Wallace, Donald Douglas, Jr., Howard and Bill Piper, Tony LaVier and Fish Salmon of Lockheed. He is also a member of the Quiet Birdman's Association (QBs) and a member of the Society of Experimental Test Pilots.
---
Robert Woodhouse & Woodrow P. Jongeward
Arizona Aviation Hall of Fame
Enshrined 1991

Robert Woodhouse, born in Anaheim, California and Woodrow Jongeward, born in Elk River, Minnesota, brought international recognition to Yuma, Arizona in 1949. Ex-Navy pilots, they established a new world endurance flight record of 1124 hours and 17 minutes. A Yuma newspaper reported that their feat "put Yuma on the map as no other single promotion or news event has ever done."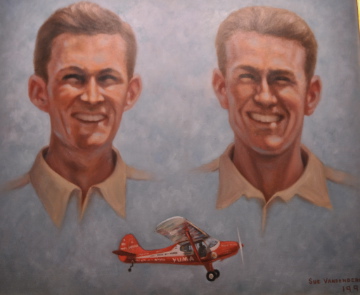 Flying a two-place Aeronca named "City of Yuma" and powered by a 145 horsepower Continental engine, the pair took off August 24, 1949 from Yuma County Airport. They landed there October 10 after more than 46 days aloft. Several times a day during the flight, ground crews riding in a speeding car, transferred fuel and food as the pilots' maneuvered their aircraft alongside at precariously low levels. A support team of 600 people was required for this highly coordinated enterprise which was a punishing test of both men and machine.