Robert W. Waltz
Arizona Aviation Hall of Fame
Enshrined 2003

From military combat to space defense, General Waltz left a lasting mark.
Born in 1920 in Akron, Ohio, Robert W. Waltz enlisted in the Army Air Force immediately after Pearl Harbor. He won his wings in December 1942 and soon joined the 390tl Bombardment Group, flying B-l7s. From a base in England, he flew 30 grueling combat missions that entitled him leave in the U.S. He volunteered to return to combat and flew I O more sorties. Of the 35 crews in the original Group, only 15 completed their initial tours.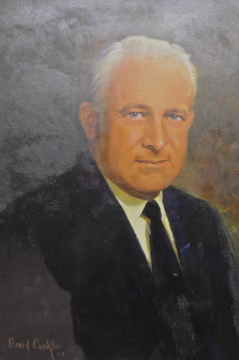 His leadership qualities were recognized early and he quickly assumed greater responsibilities. A command pilot for the 390th, Bob became its air executive officer with the rank of lieutenant colonel at the age of 24. He remained with the Group until it was deactivated at the end of the war. His many awards for gallantry in action included the Distinguished Flying Cross, Air Medal, Legion of Merit, Commendation Medals and French Croix de Guerre.
His postwar assignments included duty in the Pentagon, Europe and Ent AFB, Colorado, where he commanded the 9th Aerospace Defense Division, the first Air Force operational unit in space. Both the Ballistic Missile Early Warning and Spacetrack Systems were under his command. At the time of his retirement in 1969 as a brigadier general, he was commanding the USAF Tactical Air Reconnaissance Center at Shaw AFB, South Carolina.
His expertise in electronics led to a key research position at Goodyear Aerospace and residence in Phoenix, Arizona. Later he had an important role in building the 39Qth Memorial Museum, now on the grounds of the Pima Air and Space Museum. Today this unique shrine honors the heroic men of the 390th. It is also a living tribute to those few veterans of the group whose perseverance, commitment and dedication made it happen.
General Waltz died in 1995.